**Guest post from a Facebook friend. Thanks, Beth!**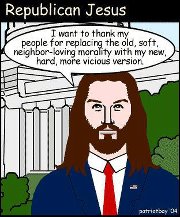 My goodness. A while back, I read something somewhere about responses to a question in the Pasadena Sun concerning whether or not the military should test spirituality. (It may have been on Justin Griffith's blog, I'm not sure.) Here was one of the responses, from a pastor in Pasadena:
There's an adage I expect will be repeated by other ministers responding to this question. It goes, "there are no atheists in foxholes." Meaning, when bombs burst, everyone hedges their bets and prays, "God, save me!" There's a joke about one combat vet who prayed "Lord, if you're there, I'll serve you and attend church every Sunday; just get me through." The Air Force immediately comes and blasts everything, answering the man's prayer. He then looks up to heaven and says "never mind…."

I know that religious people have security that atheists don't. If you believe in life after life, you fight harder, risk more, and serve better than a guy who thinks, "this is it!" If you believe you're nothing but worm-food at death, you aren't going to jump on a grenade to save the platoon, or charge a machine-gun nest expecting to meet Jesus. You're going to be reserved, second-guessing, and probably be a big fat chicken.

Look, you just read the stats: "Researchers have found that spiritual people have decreased odds of attempting suicide, and that spiritual fitness has a positive impact on quality of life, on coping and on mental health." Atheists be damned. They will be. So I really don't care what they think regarding these tests. I'm tired of having their constant nagging, their constant opposition against God — their evil. They contribute nothing positive in the long run. Their very name, "a" theist, means they are "against," with a big "no" regarding America's "creator" and "Nature's God" (the one mentioned in our Declaration of Independence). I'm frankly sick of them. Why they are here on the In Theory cast is beyond me. It's like saying, "I have no spiritual input because I don't believe in the spirit. So here's my ignorance…."

I wonder what the military puts on gravestones of atheists, a thumbs-down? Listen, all religions are protected by our laws, but atheists don't countenance America's documents that mention God. They don't actually deserve rights that even bizarre religionists have. If it could be shown that people who deny God create military weakness, however small, what should commanders do when choosing a winning military? I agree with you.

The Rev. Bryan Griem

Montrose Community Church
I was rather offended by this. I don't need to go into all the reasons why. It should be pretty obvious. So I tracked him down and sent him an email. This is what I wrote:
Hello.

I read your comments regarding atheists, specifically atheist soldiers, in a Pasadena Sun opinion piece.

I'm not going to call you names, or tell you how horrible you sounded. I think that deep down, you already know it and feel a considerable amount of self-loathing. If you don't, you should.

I was raised in a fundamentalist church, and the attitude you expressed in your opinion is one of the main reasons that I left all religious belief behind. I got tired of seeing the judgmental attitudes expressed by those who claimed to want to spread the love of Jesus Christ. I simply could no longer stand the hypocrisy.

But I thank you for your comments. Your sanctimonious pronouncements only served to confirm my decision, and make me incredibly happy that I was able to throw off the yoke of irrationality and non-reason.

I wish you luck in your life. I hope you enjoy the time you have on this earth, as I plan to enjoy mine, but I'm afraid that your self-righteousness will lead you to nothing but bitterness and unhappiness. I find that very, very sad.

-Beth
And here is the response I just received:
Beth, besides telling me all this, you haven't said why I'm wrong or asked any questions. I was asked, as I am every week, to answer the question posed to me by the newspaper, and to do so in 350 words or less. I tire of Atheists suing Christians, of them stopping prayers, preventing highschool invocations, and every other harm they do us just because they feel like it. They don't do it because it insults their religion, because they have none, but they do it to make some point or because it bugs them. The question asked was if I thought the United States Military was right in asking about spirituality, especially since they see that people of faith are more stable. Given that info, I tried to answer with some agreement to the Military's findings. I think it makes more sense that a religious person perceives less risk, eternally speaking, than someone who denies God's existence. Why would I self-loathe over my opinion of people who hate God? They aren't less than me, they are just judged unworthy of heaven. That's the bible, and that's god, and it's not unreasonable. If someone doesn't want god, then when they find out he does exist, they will have to be satisfied not having heaven, because that's his too. Of course, it doesn't sound like you believe or care, so why write me? I'm here to save the lost. I was lost, but now I'm found. If you think it's cool to reject God while living on his planet and consuming his resources, have at it. Why treat me with contempt for it?

~Pastor Bryan
And finally, here is my brief response to THAT:
Wow. Your response confirms everything I felt about your remarks and about religion in general. Thanks for that…I guess.

-Beth
Besides his whole ridiculous argument that religious people are more "stable," and that atheists are cowardly and evil, that we contribute nothing positive, that we don't deserve rights, and his obvious ignorance at why we challenge the intrusion of religion into our government,  I'm just kind of flabbergasted by his nastiness and sensitivity at being challenged on his remarks. And he wonders why some of us want nothing to do with religion and dogma. [shaking my head] You know, I'd say that I got a couple of digs in (it's generally not a compliment to be called self-righteous and sanctimonious), but I certainly didn't call him evil or cowardly. I'd say that I maintained a fairly decent tone while still saying that his original comments were offensive. I have friends on here who are religious and willing to have rational discussions about things. This guy obviously isn't willing to do that. Not that I wanted to have a dialogue with him…I wanted to let him know that he said some very offensive things, about atheists in general and about atheist soldiers in particular. What a fascinating response from him.
Oh, if you want to drop him a line yourself, the address is montrosecommunity@sbcglobal.net. Apparently he likes to be casual and goes by "Pastor Bryan."