***Guest post from John Kieffer who was with the 2nd Psyops Group with the JFK Center for Special Warfare.***
I'm wondering if there is anyone who may remember this …
In 1971 I was stationed at Ft Bragg and had to attend a mandatory hour long 'fire and brimstone' evangelical Christian sermon by a 4 Star General at the Main Base Chapel.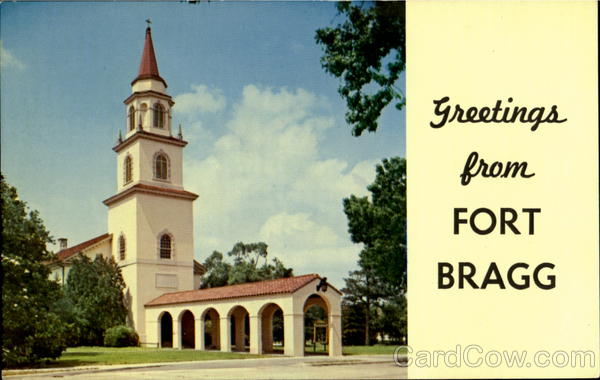 All commissioned officers stationed at Ft Bragg, from the 18th Corps commander (3 star general) down to each and every 2LT (I was a captain), were ordered to report to the base chapel at a certain time and day (I recall it was a work day).
We were told that if we were not present we would receive an Article 15. (editor's note: civilians, read this as 'a serious misdemeanor charge' -JG) 
So the chapel was packed with all the generals and highest ranks in the front pews and the lowliest company grade officers like myself up in the loft pews. For one hour a 4 star general (can't remember his name but he may have been the FORSCOM commander) told us all in every which way to "accept Jesus Christ as our Lord and Savior." All of us in the top area were looking at each and rolling our eyes. When the general was done, he dismissed us and that was that. A few weeks later I was told that he had retired.
Very strange incident.
***Editor's note: Richard Dawkins will be speaking 50 feet in front of this same building on March 31st. Free, open to all.***