FORT BRAGG, NC – Chaplain (Captain) Chuck Williams wrote an open letter on Fort Bragg's Facebook page calling for the cancellation of on-post secular festival Rock Beyond Belief. Cpt. Williams claims,
"It has now been made blatantly public by [event] organizers that part of this event will be… glorifying violence against people who possess a faith in God through the burning of churches. This is appalling!"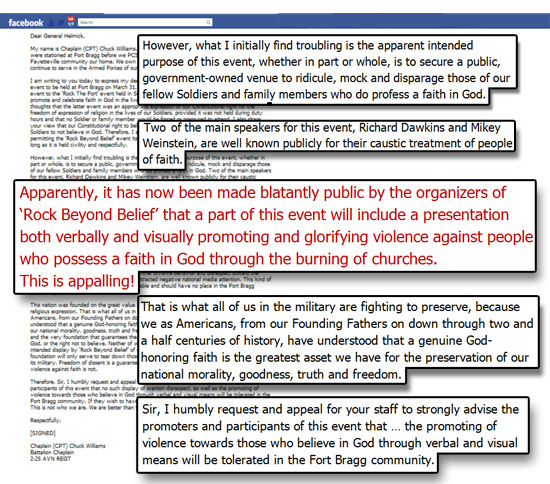 Fort Bragg estimates that 5,000 people will attend the all-day event. It was partially inspired by a controversial evangelical Christian event that targeted non-Christians for conversions. Rock Beyond Belief, to be held March 31, has no such conversion or "de-conversion" agenda. The festival aims to be a family-friendly affair including secular children's activities grounded in science.
An organizer of the event, Justin Griffith said,
"It is possible that Cpt. Williams thinks that arson is a common hobby of atheists from misinformation he obtained from FOX News. Popular rock band Aiden's lyrics were purposely taken out of context, making it look like a performer was encouraging the destruction of holy texts and buildings."
Aiden lead-singer, William Control, has repeatedly explained that the song 'Hysteria' was actually a condemnation of faith-on-faith violence and hatred. Though some of Aiden's songs contain foul language, but 'Hysteria' does not. Festival organizers insist that all performers had already agreed to only play radio friendly songs.
Chaplain Williams attacked the Military Religious Freedom Foundation's Mikey Weinstein and festival headliner Richard Dawkins as being "known publicly for their caustic treatment of people of faith." Ironically, Mr. Weinstein is Jewish and litigates mainly for Christians.
Fort Bragg's Garrison Commander, Colonel Stephen Sicinski later weighed in on the side of the atheist festival. He even guaranteed the atheists the right to 'criticize organized religion and its practitioners' in an official written statement. Cpt. Williams is not the first Chaplain to attack this festival and their efforts now seem to have backfired. Professor Dawkins now has specific permission to push the envelope.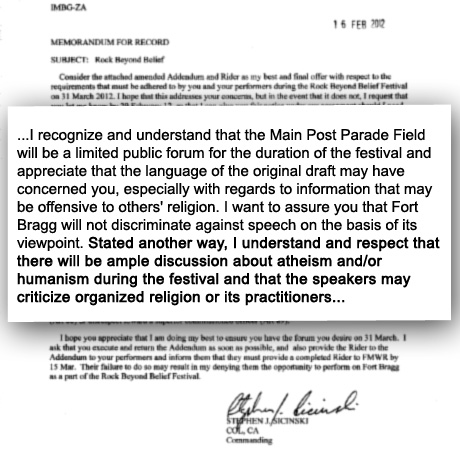 The festival is an American Atheists event. It was made possible by a $50,000 donation from the Stiefel Freethought Foundation. For more information on the event, check the RBB website.
*Here's the latest press release our crew put out. Need a copy?*