I fought very hard for this to happen at the festival this weekend. We went back and forth for several months. The 'pro-starvation' camp has prevailed.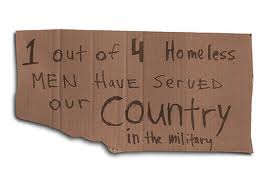 The idea was simple.
Our festival is already paid for, via a generous donation from the Stiefel Freethought Foundation (directly deposited into our accounts at American Atheists). So here we are with a free festival on our hands. We would have put the word out to bring canned food (and similar items). Next, we would drop off the food where it needs to go.
It's a win-win. Obviously we get a measure of publicity that is undeniably 'good', seemingly attack/spin proof. But that's obviously not the real motivation. We really care about the homeless population, especially the one around this military town.
Less than 1% of Americans are currently in the military (reserve and active).
7% of Americans have served at some time in their life. (2010 Census data: 22.4 million)
23% of the homeless population are veterans

33% of the male homeless population are veterans

47% served Vietnam-era

17% served post-Vietnam

15% served pre-Vietnam

67% served three or more years

33% were stationed in war zone

25% have used VA homeless services

85% completed high school/GED, compared to 56% of non-veterans

89% received an honorable discharge

79% reside in central cities

16% reside in suburban areas

5% reside in rural areas

76% experience alcohol, drug or mental health problems

46% are white males, compared to 34% of non-veterans

46% are age 45 or older, compared to 20% non-veterans

[source]
America has left a population of heroes behind. It's a goddamn shame. And we want to raise visibility and perhaps even make a noticeable dent in our area.
We are accepting donations at the after party!
The free party is at the Holiday Inn Bordeaux (call 910 323 0111 for room reservations) from 9PM – Midnight. It's the official American Atheists after party, featuring music from Shelley Segal and appearances from the majority of our lineup. You can take pictures with them and give them hugs!
The donations are being handled by Military Atheists & Secular Humanists of Fort Bragg (MASH Fort Bragg). Bring some canned food, or other non-perishable items. Or simply drop some cash to the MASH Fort Bragg peeps at the hotel, and we'll spend 100% of cash collected that night on bulk food purchases to supplement what you guys bring.
*UPDATE* MASH Fort Bragg is now able to handle online donations specifically marked for the food drive.
[Update after the festival: online donations totaled $2246, and we raised another $1200 at the after party (off post). Read more here.]
…
[continue reading below the fold – *important*]
Fort Bragg's lawyers say this is 'fundraising' and illegal
They are applying the 'no fundraising' concept quite liberally towards our festival. None of our vendors may accept donations (but they can sell stuff. That's how you donate to them! Bring cash…)
Why is there a ban on 'fundraising' anyway? Joint Ethics regulation 3-211 is the culprit.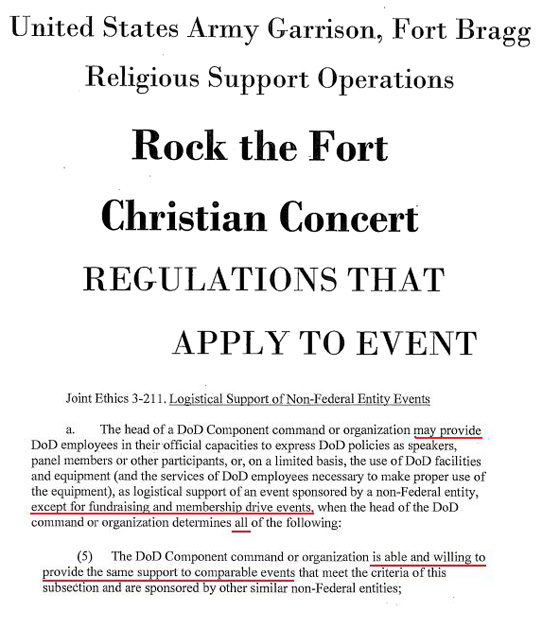 This image actually comes from the paperwork filed by the Christian event (emphasis mine). We obtained it in a Freedom of Information Act (FOIA) request. It was in a section marked 'REGULATIONS THAT APPLY TO THIS EVENT'.
This means that the evangelicals surely had to follow this law too, right? Of course not.
They were permitted to raise funds (in the form of cash!) for months on post. They raised $54,000 in tithing at every chapel on post – there are several. That is a colossal fundraising effort, repeatedly violating the regulation – at multiple locations on post.
They spent the money on radio commercials (over $5K) and newspapers ($5K) and sandwiches, face paint, transportation and hotel rooms for their guests, etc. It represents institutionalized violations of the ethics code that they claim applies to their own event. The cleverest among you may notice that the entire point of their event was to convert as many people as possible to Christianity – a membership drive is an understatement. People should be in a massive amount of trouble for this!
This is what discrimination looks like
One other thing, we were (and still are) denied access to this structure of fundraising. We are banned from meeting on post – just like all atheist groups on every military base. Over a year ago, I filed to have our religious preference treated with equality within the military chaplaincy. Obviously nothing could ever make atheism a religion, but it's certainly a 'religious preference' (a military term). We want to be able to meet on post, and have the same access and support that every other religious preference gets.
We are a community, and there is no other realistic support structure. I was the first to attempt to get the chaplaincy to work with us. I've previously indicated that I was shot down in a very depressing manner, but did not elaborate. I was holding out hope for others that I inspired to follow in my footsteps. Many other candidates came forth in my wake, with higher ranks. Not a single one has yet been cleared.
For various reasons I'm now extremely pessimistic for their attempts as well. I can no longer hold this back.
This is the reason why we are still banned from meeting on-post: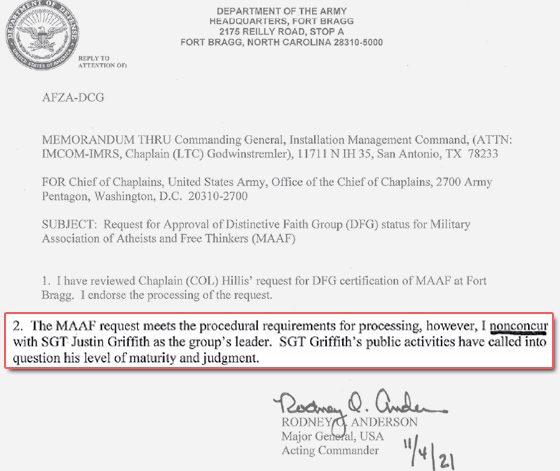 This letter was attached to the massive packet that represented my application. There was a stack of at least a dozen 'concur' endorsements from my commanders, as well as chaplains from my unit, even the Garrison Chaplain (highest at Fort Bragg) recommended me. The rank attached to the letter above is higher than the authors of the 'concur' letters.
The date on this letter is April 21st, 2011. I was not told about my packet's denial until November 2011. The Garrison Chaplain, Chaplain Hillis sat me down and pointed to that letter. He seemed surprised that I hadn't seen it or been told that my efforts were squashed nearly 8 months earlier. He was magnanimous and polite, and possibly even a bit apologetic.
I have a massive amount of respect for the commanders at Fort Bragg, including the one named here. I respectfully disagree with his assessment of me. It's with great heartache that I must leave it at that.
But it's not over, I promise you. Rock Beyond Belief represents the first crack in the stain-glass ceiling. It's time we break on through, brothers and sisters.