Larry M. says I'm a 'dummy' that's going to get 'wacked' (sic) in a foxhole because… I'm not a Christian. He's also grateful that he doesn't have to be the guy who carries my body back to the FOB. Atheists are just too damned heavy!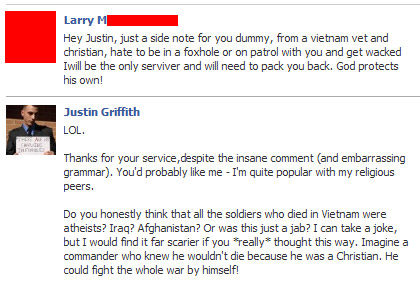 At least he accepts that there are indeed atheists in foxholes. I'm not sure why he sent me a message implying my impending death (because his god wouldn't block the bullets for me.) Oh well… this is progress, people!
If you want to communicate with me on Facepalm, feel free. Subscribe / friend… whatever. I've also recently started actually using twitter correctly, if you're into that.
@NewtGingrichPAC just followed me on twitter. Hmmm… wonder why?