On September 20, 2011 Don't Ask, Don't Tell was officially repealed. This was a huge victory for all the soldiers, organizations, politicians, and citizens that put their time and effort into combating DADT.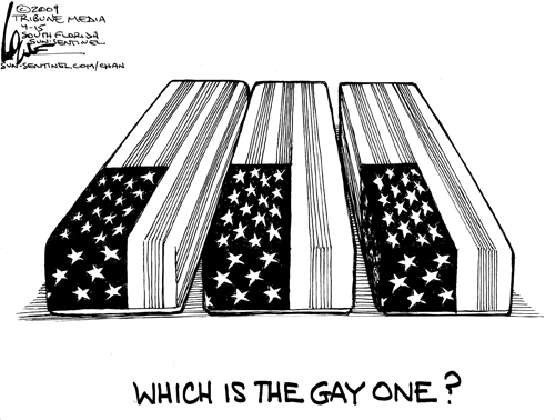 Obviously, the LGBT rights issue is far from settled in the military. But here at Fort Bragg, N.C. we've got a special kind of hate and coming from the state legislature. And you can help!
The Stiefel Freethought Foundation has a new campaign – combating North Carolina's disgusting Senate Bill "Amendment One". Amendment One (Senate Bill 514, 2011) is a proposed change to Article 14 of the North Carolina State Constitution. That means it's not just another law to add to the books to restrict citizen's the their right to pursue life, liberty and happiness. Sadly, those laws already exist in this state. Instead, it will become part of the state's constitution which will then restrict any efforts to pass laws that are contrary to it.
Todd and his wife have started a campaign. They want to raise $100,000 to help raise awareness about this bill and defeat it. He will match every donation dollar for dollar. The money will be spent on ad campaigns:  television, radio, newspaper , etc. to educate people on what this bill will do if passed.
Todd's new video explains why this nonsense directly affects his straight Marriage.
www.youtube.com/embed/5bGV3-j1DiA?
Straight parents and grandparents may have LGBT children and grandchildren! Excellent point, Todd!
You can read more here.
Get involved!
Several organizations in North Carolina are supporting Todd's matching campaign, such as the
Triangle Freethought Society
and the
Military Atheists and Secular Humanists at Fort Bragg
. Unfortunately, many soldiers stationed here at Fort Bragg and other military installations cannot vote on this on May 8th because they are not registered to vote here. However, we are finding other ways to get involved. We've donated what we could to this cause but also went out into their community to let others know about it. This effort paid off immediately. Four local businesses pledged major support. Obviously, not wearing their uniforms, they are also planning on joining over 1,000 marchers on May 5th in Raleigh to take the message to the door step of City Hall.
The efforts to raise awareness are paying off. Check out this recent poll, and read the DailyKos blog post about it!
…Historic PPP Poll: Support for anti-gay Amendment 1 in North Carolina falls below 55% to record low…
This really is winnable!
Don't live in North Carolina? Donate!
We can make a change but we really need your help. If you do not live in NC, please consider donating what you can to the cause.
Every dollar you donate is actually two dollars!
Live in North Carolina?
Vote AGAINST Amendment One on May 8th!