The atheist has got your back. (click to embiggen)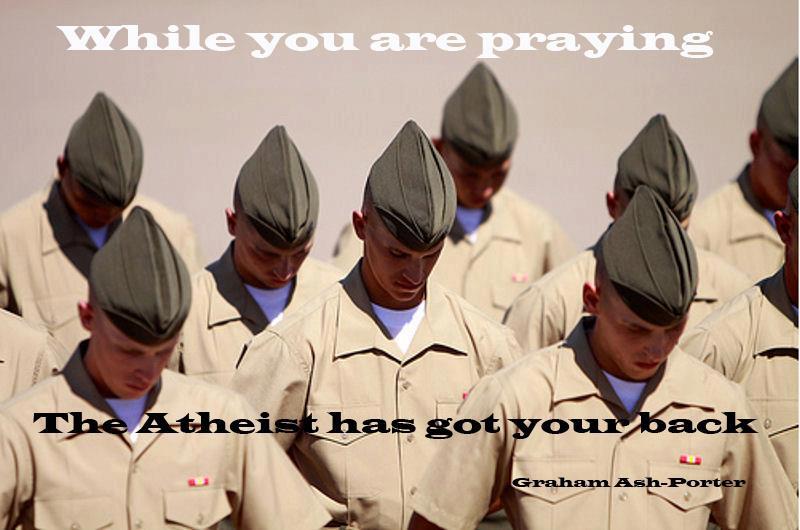 I'm a big supporter of the Free Exercise Clause, and I would not be against my peers praying – except in two circumstances.
1) The forced prayer that is being depicted here.
A few times every month, I'm ordered to 'stand at attention' and then 'bow my head' for the chaplain's invocation (read: prayer). The circumstances are entirely secular and overtly bland in nature. I'm talking about retirement ceremonies, change of command ceremonies, change of responsibility ceremonies, or even 'potluck lunches'. All of these are mandatory, and there is no 'opt-out'. You simply must comply.
I never bow my head. I figure that if anybody notices that I've not complied, they are also breaking the rule. I always look around for others who don't bow their heads. They're out there. However, that gives me very little solace, I don't take comfort in knowing their are a handful of others equally freaked out by the situation (every time!) This is the exact same problem that the public school system dealt with nearly 50 years ago, and even the solution is the same.
In a pluralistic setting, all prayer needs to be opt-in and not being lead by the leadership (officers) of a government institution.
2) In a foxhole
I'd slap some sense into any soldier that put down their rifle and ignored their training for any reason during a firefight – including for prayer. I'd try to get through to them exactly twice.
The first time I'd say "Snap out of it, we're going to make it – But only if you get your head in the game. I need you to concentrate…"
The second approach would be along these lines "Listen, I was an atheist until five seconds ago. I didn't think you'd even believe me but… God just told me to tell you to shoot back at the enemies. He says He needs you for His plan, and that you must fight. He's proud of you." (without a hint of sarcasm.)
I don't care what it takes. I'm going to see my daughter again. I'll take an ass-chewing from my commanders any day, and I'll take shit from the soldier later when I reveal that I was just manipulating him/her. Your religious freedom stops when my survival is threatened.
*Hat-tip to Sharon H. for posting this image on my Facebook wall.*