Ophelia Benson just posted with some slime-bait, and I think she made an excellent point. I started writing this in the comments section on , but realized it was getting too long.
***Edit:
I do not support myself.
Comments are hereby suspended. I fucked up. This post was a massive fail. I thought I could solve a year's worth of 'debate' with a sneak attack post. Fuck everything about the anthill I just kicked up. Apologies, all around. I shades-of-grey-knighted. Real life will keep a full post from coming until tonight.***
First off, let me say that I agree that people shouldn't use gendered slurs. This is a lesson I really think is important. It's a hard-fought lesson for me. Let me walk you through it.
My initial thoughts are complex. I wince when I see racism, sexism, etc. I stop it and correct it when I see it in my soldiers. But I think a part of me deep down says "Don't you tell me what I can and can not say… free speech mother fuckers!… Words are just words!… Even the /b/tards at 4/7/99chan aren't actually racist or nazis. They think it's funny to be outrageous and shocking… and they laugh hardest at the people who aren't in on the joke."
From the comments section:
The point is that there's not some Rule that says it's bad awful terrible to say "You are a filthy, dirty, ugly subhuman gorilla," or "Lets hope that AIDS will do what sickle cell anemia failed to do, exterminate your whole simian race" but perfectly fine to say "I would kick her in the cunt" or "smelly skepchick snatch" or "Rebitchka Twatson." – Ophelia
I completely agree with the point she's making about the types of slurs being more or less analogous. However, I think the underlying reason for this language isn't hatred or bigotry on the part of the 'slimepitter'. I'll mansplain in a bit.
I dislike the idea that these statements are automatically / always 'off limits'. It seems puritanical to call their usage uniformly 'bad awful terrible'. There simply have to be some exceptions. There are situations where use of these terms may be acceptable, tolerable, or otherwise forgivable.
Please forgive me for parading out some of the tropes. Correct me if you see it.
1. John Lennon – "Woman is the Nigger of the World"
www.youtube.com/embed/Tl-7-wjQO1k?
Though his explanation of his lyrics is generally on point, it stumbles a few times. Once again, illustrating that brilliant people aren't always right on. John Lennon went Lenny Bruce. And this argument is a bit of a slippery slope, I'd recoil in a similar defense of Meredith Brooks nauseating "I'm a Bitch".
My stance: His intentions were clear and admirable, but his goal was unrealistic. I may even say that he's a dreamer.
2. Dead Milkmen – Bitchin' Camaro (skip to 1:52 if you're impatient)
www.youtube.com/embed/1v3CzvQ9e_w?
I'm sure that Ophelia (or some other awesome blogger) can correct me here – please do so. This is one of the few remaining ways that I'll use this word. How does the 'no gendered slurs' rule apply when the word is intended as a compliment. "I've got a BITCHIN' Camaro!"
I'm no etymologist here, but I think this usage evolved from the urge to be emphatic with vulgar language in a positive situation. Similar to "I'm the shit!" Or perhaps Trainspotting's usage of "Cunt" as a term of endearment "Yeah, he's a good cunt." (meaning, he's a good guy / friend.)
I suspect this type of reasoning is thrown about frequently. Seriously, help me out on this one!
My stance: I'm on the fence.
3. Half of stand-up comedy.
I'm not capable of resisting laughter when I watch comedians like Dave Chappelle use racially and sexually charged words. I think it's universal humor that actually attempts to undermine the very stereotypes it portrays. Unfortunately, in Chappelle's case, he saw that it was socially irresponsible humor. He noticed that the wrong people were laughing AT him (and not in the good way). His interview on Oprah was touching, and it further made me agree that people should avoid gendered / racial epithets.
So Chappelle learned the socially irresponsible effects of his choice in words. I'm sad that so far he hasn't really gone on to do some other comedy, having learned this lesson. What about my Chappelle show DVD's though? Are they magically not funny anymore? Can't a joke be offensive when seen without the intended irony, and still be funny?
Lenny Bruce famously attempted to remove 'nigger' from the list of bad words so that some 6 year old black girl wont have to cry anymore. Noble sentiment, sure. It didn't work. It's not practical.
My stance: people on the internet generally aren't Lenny Bruce, or Dave Chappelle. Lenny's plan didn't work, and Dave regrets his. Both were still funny. I think that there certainly are corners of the internet where people do get the irony. Those are typically places where you don't attach your name to your statements – because they are so shocking that you want to remain anonymous. (so post there! NSFW)
Otherwise, you may come off sounding like Andrew Dice Clay. *shudder*
4. Dirty talk / Role Play.
I don't think this is an area of contention. BOTH sides espouse sex-positive approaches. If you weren't allowed to say dirty words, or even degrade a consenting sex partner… I think everyone would have a problem. Consenting adults should have no restrictions on how they hump each other.
Love the slimer, not the slime
I enjoy swear words, and I loathe censorship. I sometimes enjoy humor with socially irresponsible epithets, but I enjoy them in socially responsible settings. For instance, as an audience member at a stand up comedy act, or as a consumer of Dave Chappelle DVD's, or as an anonymous poster / lurker at 7chan.
If ERV's so-called slime pit were self-contained, that might be a perfect spot. But it's not self-contained at all!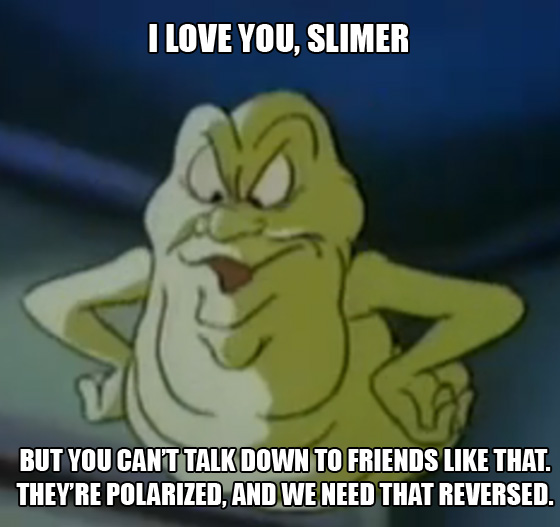 I think the problem is that the 'blog-comment scene' is an interchange where your identity carries you outside of a socially responsible 'irony usage' of these words. It's too socially diverse. If you comment at a place where you know such language isn't welcome, you're way out of line to use it. If you're directly contacting a person known to dislike this language, and you use this language, you're wrong. Not everyone gets it, because not everyone is in on the joke / freedom of speech angle.
I agree with the sentiment that some bloggers (everywhere, not just here) are over-zealous with the banhammer. I try to surround myself with people who aren't afraid to tell me I'm wrong. If you're banned for a disagreement that you launched with reasonable arguments, that's a shame. I have yet to ban a single person, not even the drive-by ad hominem or the butt hurt theists, or the anarchist anti-military trolls. But my blog isn't quite big enough to warrant moderation. Until my comment section turns into YouTube, all I need is a spam trap. That's just me though.
Both sides of this argument seem a little blind right now. Both sides claim 'sex positive' approaches to their environment. Both sides are supportive of reasonable, realistic, ethical, enforceable, sexual harassment policies at events. Wasn't that the point of the year long argument that erupted at elevator-gate?
That being said…
I support Abbie Smith. [edit: I meant, I read her blog. I think she's way off on the gendered slurs. I thought the rest of this post was clear about this. I use giant font to break up sections, like an author would use chapters.]
I don't support everything she says or does, but I think she's a great blogger. Everyone else thought so too before elevator-gate. She writes about all sorts of amazing science that I soak up like a sponge. She taught me what a 'quasi species' is. I'm also passionate about dogs, training, and the illogical intolerance of breeds based on misconceptions. Abbie also opened my eyes to 'career ending' moves by Brian Sapient.
I also really appreciate that the diverse chan-style humor brought a new edge to the atheist world. She gets that, and uses it well. Abbie is funny, but I think she is unaware of the socially irresponsible applications of that style of humor when she commands an audience that large. This is the paragraph in which I became a tone troll, too.
I like it when the slime-pitters call us names like PeeZus, etc. I like PZ a lot, but that's pretty funny. I'm against idol-worship, autograph seeking, so I appreciated 'PeeZus'. (Do I have a nickname yet?) But I don't like the 'Rebitchka Twatkins' gender based slurs. I chuckled in a Beavis and Butthead manner the first time I saw it, but then I winced. I was like… NO! Abbie! Shit! Delete! They wont get it! Their brains aren't desensitized by 4chan like ours. (A little later, I realized that desensitized might be synonymous with damaged in some sense.)
It's also difficult to watch people I admire, like Jen McCreight and others do 'caturday' posts. Do they even know what they are paying homage to? Websites like icanhazcheezburger simply regurgitated the caturday posts from 4chan – but removed the racist stuff, much of the extreme sexual stuff, and otherwise sanitized it for public consumption.
Like this:
www.youtube.com/embed/dKVI2_Dl00Y?
I hate that song intensely. When this happened, I turned against this meme – now also called 'lolcats'. When this caturday phenomenon started on 4chan, 50% was pure and innocent. However, popular common themes also tended to include rape, fascination with child porn, racism, and even "cat speak" versions of gendered slurs. Bitch becomes, bish. Etc.
That's what I'm saying, though. This language does have a place. The 'greater' atheist blogosphere is simply not one of those places. It belongs in the various islands of Lenny Bruce clones. Rare as they are, they do exist. Our particular corner of the internet should probably be run more like this: if you wouldn't say it to that person in real life face to face, don't say it on their blog/twitter/facebook.
Did I just fall on my sword or on my face? It feels like I fell. Am I still somehow liked by both camps? Oh well, I spent way to long on this not to publish it.