When I'm feeling like a sad-bastard I don't play sad-bastard music. I put on music about overcoming tragedy. I'm not sure if I invented the phrase 'self-help rock' or not. It's not a real genre, but then again, I could probably fill several mix-tapes with it.
This is a list of songs that may even save lives (only half kidding there.)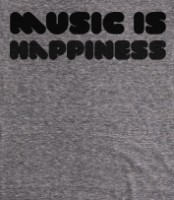 Self-help rock
Eels – I Write the B-Sides 2001
This band basically defines the 'self-help rock' concept for me. They snagged three spots on this list, but could have taken up the whole thing.
www.youtube.com/embed/dc7zLSTd9DQ?
This was a b-side on an obscure EP, true to form.
Japanther – Bumpin' Rap Tapes 2009
My favorite band of all time. This song is a great "I'm okay, you're okay" art-damaged pop song. The video is hilarious though, and it really makes you not want to die.
www.youtube.com/embed/EzVzJMzRF8Y?
They really are an amazing band, and frankly this (great) song isn't even the cream of their crop. It's just the most relevant. Check them out, especially if you live in Brooklyn. Their live show is nuts.
Flaming Lips – Do You Realize 2002
The Flaming Lips could easily fill a 'self help rock' mix tape on their own – though not to quite the extent that Eels could.
www.youtube.com/embed/oXGb3JoGp0w?
This song is my generation's 'Wish You Were Here'. It shall be played at many funerals and memorial services. It's melancholy but it sends a powerful message to the listener, urging you not to squander your chance to tell someone that you love them.
Dead Moon – It's Okay 1997
Garage rock. Heart on sleeve. Wobble in voice. Well-timed fret noise. I wouldn't change a thing about this unpolished lofi gem.
www.youtube.com/embed/QunPzFV41uk?
Dead Moon's singers were husband and wife garage rock legends. Members went on to form other great bands too, but this song is probably their peak.
Spiritualized – Ladies and Gentlemen We're Floating in Space 1997
Jason Spaceman writes about three things, love, Jesus, and heroin. This is one of the few songs that transcends his pigeon hole. It's all chorus, no verse, and it hits hard.
www.youtube.com/embed/iB7E1D_3Na4?
It's canonical and layered. Every time the harmony comes around, Jason threatens to steer the ship towards melancholy. However, there is an undercurrent of self-improvement "A giant step each day". It seems to suggest that he's just starting his path towards sanity / sobriety.
Eyedea and Abilities – Smile 2009
Self-help hip-hop. DJ Abilities is an amazing turntablist, and his skills are on display here. Eyedea spits out some righteous lyrics, and even ventures into full-on singing. This was a huge change from the battle-rap mindset of their first records.
www.youtube.com/embed/z9-eKhCukW8?
Tragically, Eyedea died of a heroin overdose shortly after this was filmed.
MC Honky – A Good Day To Be You 2002
Self-proclaimed 'elderly rapper' MC Honky released only one album. This fan-made video is hilarious, by the way.
www.youtube.com/embed/LM15USyxRFU?
It is widely believed that this is actually an Eels side-project that de-emphasizes serious lyrics.
Silver Jews – Tennessee 2001
This is the only country song on my 'self help rock' list.
www.youtube.com/embed/EZWNaGIsBcY?
The 'Tennessee' vs. 'ten I see' wordplay is a gamble, but I think it works in a way that's almost too honest.
Black Moth Super Rainbow – When the Sun Grows on Your Tongue 2007
Imagine drugs. Now add drugs. Press play.
www.youtube.com/embed/8UaKs_dwwD8?
Now that you're in a good mood, go study for your drug test.
Flaming Lips – The Yeah Yeah Yeah Song 2006
Perhaps this is the catchiest self-help rock song.
www.youtube.com/embed/kjrUOlK2714?
Cute video too, seriously love the ending there.
The Stranglers – Get a Grip (on Yourself) 1977
First wave punkers, The Stranglers were already flirting with synthesizers and keyboards. This anthem straddles the gap between punk and new wave.
www.youtube.com/embed/YNGdkR7lVSs?
The new wave scene rapidly devolved into sad-bastard pop with drum machines and substance-free idiot poetry. I can't blame the Stranglers for the entire shitty decade of music in the 1980's. They were embracing the DIY / freedom / anything-goes atmosphere of the '77 explosion, and they also happened to be talented (admittedly rare and perhaps unnecessary for the punk genre.)
Eels – Mr. E's Beautiful Blues 2000
Goddamn right it's a beautiful day.
www.youtube.com/embed/nQF0hs9Rzus?
Uh huh.
Eels – Last Stop This Town 1998
Best song on the list. This quirky video features an unforgettable duet with lead singer, E, and a Carrot-DNA-Spliced-With-E's-DNA clone of E.
www.youtube.com/embed/0TfqbuTBqX8?
10/10.
If you've listened to all the songs here, your life should now be awesome – like it was back in the day. If not, you can always start at the top and play them all over again.
Suicide Prevention
I've lost too many friends and even family members to suicide, and I know that many of my brothers and sisters in the military are struggling. I teach the Army's token Suicide Prevention class to the soldiers in my section on a quarterly basis. I use some of the standard issue death-by-powerpoint that we've all seen countless times. But I always go off script… because I actually give a shit. I'm not just ticking a box.
During my suicide prevention classes, I show my soldiers this photo montage that my father set to the Flaming Lips song – 'Do You Realize?' shortly after my cousin Matt shot himself.
www.youtube.com/embed/_RitBbNft8E?
I've been approached by numerous soldiers after my class that quietly informed me that they were really struggling, and we got them some help. I've seen many grown ass men and women cry when I calmly explain how much I wish I had just told him I loved him… or that I'd take 'alcoholic Matt' over a 'dead Matt'. I wish I could have convinced him to join the military, perhaps he'd get the same 180 degree turnaround that I'm living.
I was deployed when I heard that Matt shot himself. Twenty seconds after hearing the news, it hit me hard – sinking in all of a sudden. I just dropped the phone mid-conversation with my supervisor. I grew up with this kid! There are several pictures in that video with me in them, and many more where I'm just off-camera.
Just to be clear, I don't blame myself at all, or carry any sense of guilt. I tell my soldiers to reach out and let those they love know it. "You might not get another chance." I've shown Matt's video many times now during my Suicide Prevention sessions. I'm absolutely convinced that Matt's story and that music video are responsible for at least one person getting help before it was too late.
So…
What songs make

you

not want to die?