I received a few complaints about soldiers stationed at Fort Gordon, GA being forced to clean up an off-post Catholic property during the duty day. One was from a fellow foxhole atheist.
(NAME / RANK WITHHELD)
Justin –

Got a question. [WITHHELD], has been tasks with cleaning/landscaping etc, a Catholic Church. This so far is not optional. You are more versed in the legality of church and state.

What I see is more of an issue of having a federal employee mandated to clean private property. It would be different if it were voluntary but it is not. The church portion is just a bonus. I am pretty sure that this is not legal. Got any references for me?
*See the official FFRF / American Atheists release for the full source of this tasking.[pdf]
I sure do have some references for you. In fact I took the liberty of taking this beyond American Atheists and sought even more support from other organizations. The Freedom From Religion Foundation and American Atheists have just issued our demands to have this stopped immediately. No religious institution – interfaith or not – should ever receive mandated government workers to do their menial tasks. This is off post, during the duty day, in uniform, mandatory… yard-work.

Now that legal teams from both the FFRF and AA have looked over existing case-law, they independently confirmed that this is indeed unconstitutional. The establishment clause has repeatedly been found by the SCOTUS to "prohibit favoring one religion over another… and prohibit the government from favoring religion over non-religion". (Wallace V. Jeffries 1987)
This is one of those times where the foxhole atheists (and other minorities) really need others to speak up for them. Please, if you have a few minutes you can really help stop this. Nothing works faster than a combination of public / media and legal pressure. FFRF and American Atheists are bringing the legal pressure, but we need your help.
How you can help
We're sending out press releases to all of our national media contacts. However, press coverage nearly always starts local.
Please call/email the Augusta Chronicle:
Phone: 706-724-0851
Toll Free: 866-249-8223
After Hours Newsroom Phone: 706-823-3338
Even simply using those sharing buttons at the bottom helps tremendously. Perhaps somebody else will see it and pick up the phone too. Besides, you know you like clicking on stuff.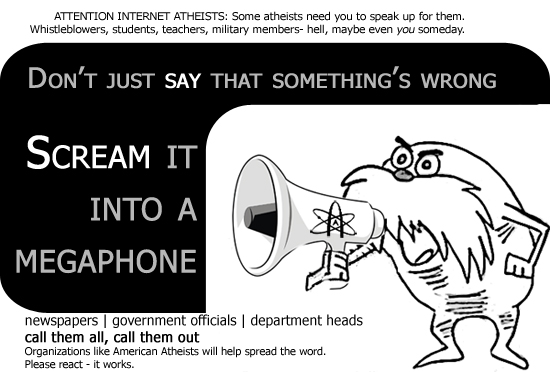 ***Text of the press release below the fold***
The Honorable John McHugh

Secretary of the Army

1400 Defense Pentagon

Washington DC 20301-1400

Re: Improper governmental support of religion

Dear Secretary McHugh:

We, the undersigned organizations and individuals, are writing on behalf of concerned Army service members and our national memberships to alert you to violations of the Constitution occurring at Fort Gordon, Georgia. The Freedom From Religion Foundation ("FFRF") is a nationwide nonprofit organization with more than 19,000 non-religious members including currently active and former members of the Army. FFRF's purposes are to educate the public about non-theism and to protect the constitutional principle of separation between church and state. American Atheists is dedicated to working for the civil rights of atheists, promoting separation of state and church, and working towards increased visibility, respect, and equality for atheists.

It is our information and understanding that the Regimental Noncommissioned Officer Academy's Advanced Leader Course (ALC) at Fort Gordon, Georgia is ordering the ALC to "provide area beautification support to the Catholic Social Services of Augusta, Georgia." We understand that every two weeks a "CMF will provide personnel to maintain the area around the social service building."

Given their name, we hardly need point out that Catholic Social Services ("CSS"), whose slogan is "In Every Season God is With Us," is a religious organization. Their symbol is the Christian cross with the initials CSS. According to their policy statement (enclosed), "all services provided require participation in Catholic Social Services Case Management." This "case management" is further described as a "mentor-like relationship" where they "strive to facilitate client growth, self-understanding, and hope." The evidence that CSS is proselytizing to people who need their services is contained in their own policy statements (enclosed).

As you are no doubt aware, the Establishment Clause of the First Amendment prohibits the government from taking action that will "aid one religion, aid all religions, or prefer one religion over another." Everson v. Board of Education, 330 U.S. 1, 16 (1947). Providing services free of charge is no different than allocating funds. The Supreme Court has held that allocating public funds in direct aid to particular religious institutions is unconstitutional. See Committee For Public Ed. and Religious Liberty v. Nyquist, 413 U.S. 756 (1973).

CSS no doubt provides some needed services in the community, but they do so in the name of their religion and with an eye toward winning converts. It is inappropriate, and constitutionally problematic, for the government to be subsidizing this religious organization.

This situation is not analogous to our government contracting with a charity to provide secular services. In this case, the government — in the form of the U.S. Army — is giving a direct, substantive benefit to a religious organization. Compelling U.S. soldiers of many different faiths or no faith at all to support a religion is a violation of their freedoms of conscience and contrary to the First Amendment.

The nonreligious population of the U.S. is 15% (American Religious Identification Survey 2008) and 23.4% of all military personnel identified as atheist, agnostic or have no religious preference (2010 MAAF study based on Department of Defense data). Fully 81% of members of the U.S. military are not Catholic. Department of Defense, Pay Grade and Religion of Active Duty Personnel By Service (excluding Coast Guard) as of May 31, 2009, Active Duty Personnel Inventory File. It is wholly inappropriate for soldiers to be commanded to support a religion they do not adhere to. As the Supreme Court said, "at a minimum, the Constitution guarantees that government may not coerce anyone to support or participate in religion or its exercise…" Lee v. Weisman, 505 U.S. 577, 578 (1992).

We commend your charitable instincts and desire to give back to the community, but they are misplaced when you order U.S. soldiers to support a religious organization. Using the manpower of the Army to support secular organizations that do not mix religion and charity would not violate the Constitution or the rights of conscience of your soldiers.

Very truly,

Dan Barker and Annie Laurie Gaylor

Co-Presidents

FREEDOM FROM RELIGION FOUNDATION

www.ffrf.org

Andrew L. Seidel

Attorney

FREEDOM FROM RELIGION FOUNDATION

www.ffrf.org

Dave Silverman

President

AMERICAN ATHEISTS, Inc.

www.atheists.org

Justin Griffith

Military Director

AMERICAN ATHEISTS, Inc.

www.atheists.org