SAN DIEGO, CA – Over the past decade, the local Calvary Chapel Costa Mesa has had unprecedented access to Marines at Camp Pendleton. Despite their controversial end-times message and history of sex scandals, the group has co-sponsored several high-profile concerts and other events with the approval of local Navy and Marine Corps commanders.
Comprised of hundreds of congregations, Calvary Chapel is a large organization in crisis. Their founder, Chuck Smith, famously predicted the end of the world to be 1981, and still expects the end any day now. Smith also presides over the San Diego area congregation, the Calvary Chapel Costa Mesa. His former colleagues have described cover-ups of sex scandals, including those involving minors as young as 12 years old. Smith had famously re-hired John Flores, a twice-fired pastor who was finally arrested and convicted of having sex with the 15-year-old daughter of another Costa Mesa pastor.
None of these incidents affected Costa Mesa's influence at Pendleton. No other religious group has a presence on this scale. In fact, other groups are beginning to cry foul at unfair treatment, citing the special privilege that Costa Mesa has enjoyed for a decade.
Back in April, so-called 'foxhole atheists' in the Marine Corps filed paperwork with Camp Pendleton for equal treatment, in the form of an upcoming festival. Called Rock Beyond Belief 2, it's the follow up to this year's massive atheist festival on Fort Bragg, a US Army installation in North Carolina.
Camp Pendleton has not been receptive to their request. Co-organizer and American Atheists Military Director, Justin Griffith said, "All we want is equal treatment compared to Costa Mesa. We were stonewalled, and we even had to submit a Freedom of Information Act request. Their response was a slap in the face that ignored 99% of our request, and half of it consisted solely of pages of garbage text and blacked out names. We wonder what they are hiding, or who they are protecting."
Griffith contacted the Freedom From Religion Foundation and the Military Religious Freedom Foundation for additional support. Collectively, they issued demands for transparency and equal treatment. They addressed several military commanders, including Secretary of the Navy, Ray Mabus.
The organizers have stated that their contact at Pendleton stopped returning messages weeks ago, but they remain optimistic about the future.
View the AA / MRFF / FFRF joint letter for more information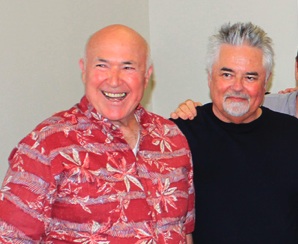 "Chuck Smith mugs for the cameras at Calvary Chapel Visalia with accused Child Molester and Child Abuser Bob Grenier of Calvary Chapel Visalia, after Chuck Smith and Calvary Chapel Costa Mesa was notified of the abuse allegations made by three of Bob Grenier's sons and corroborated by an Aunt in an interview with a police detective for a report filed in 2009. Unfortunately the statute of limitations had run out and no arrest was made. However, Calvary Chapel is well aware of many allegations over 30 years of abuse and corruption by Grenier and still endorses him fully…which is indicative of how Chuck Smith and Calvary Chapel shuns accountability and protects Calvary Chapel Pastors, while ignoring Victims and whistle-blowers." – Via Calvary Chapel Abuse