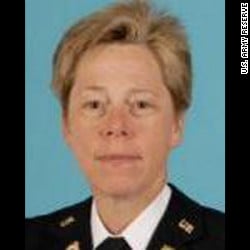 Brigadier General Tammy Smith is the first openly gay flag-grade officer in the US Military. At this rank, she'll have thousands of service members quite literally looking up to her.
The private ceremony included a twist on an old military tradition. Brig. Gen. Smith's spouse 'pinned' her. In other words, her wife slapped the new rank onto her uniform for the first time.
CNN has the story:
Smith received her stars in a private ceremony at the Women's Memorial at Arlington National Cemetery, according to a press release from the Service Members Legal Defense Network, an organization promoting lesbian, gay, bisexual and transgender equality in the U.S. military.

Friday was also the first day she publicly acknowledged her sexuality, according to a report from Stars and Stripes, and that acknowledgement comes less than a year after the military ended the "don't ask, don't tell" policy under which an active-duty service member faced punishment or discharge if he or she admitted being homosexual.

"I don't think I need to be focused on that," Stripes quoted Smith as saying. "What is relevant is upholding Army values and the responsibility this carries."
Modesty aside, I'm sure she knows just how important this was. Not just for her, but for countless other LGBT service members. Less than a year ago she would have lost her job altogether. Now, she's open about it – though it's likely she wanted to avoid the appearance of making 'political statements'.
I wonder how her command chaplains are going to react. Some chaplains have been quite receptive to the repeal of DADT. Congratulations on the promotion, Ma'am. Thank you for setting the example for countless others.