The Marine Corps Times just released an outstanding story about us! Seriously… this is simply good reporting.
Two national atheist groups, and one advocating religious freedom, have complained to Navy Secretary Ray Mabus that officials at Camp Pendleton, Calif., continue to deny them access to the base while giving "preferential treatment" to Christian religious organizations, including a controversial church they say is steeped in "doomsday theology" and embroiled in sexual-abuse scandals.

…

They single out the Calvary Chapel Costa Mesa in Southern California, the mother church in a network of roughly 1,300 Calvary Chapel congregations nationwide. Its head pastor, Chuck Smith, has been mired in controversy for years, with critics blasting his teachings that center on predictions the apocalypse is near. He and other leaders within the congregation also have been accused of not doing enough to prevent the alleged molestation of several children.

"We are disturbed that the government is giving such extensive support, including assets, resources and personnel, to a single sect of Christianity," the three groups wrote in their letter to Mabus. "Even more troubling is the 'doomsday' nature of the CCCM. … The last thing Camp Pendleton needs is a large group of well-armed Marines convinced of an imminent doomsday crisis."

Smith told Marine Corps Times that said he hadn't seen the letter — but he scoffed at any characterization of his church as doomsday-focused. CCCM, he said, supports "a pretty strong ministry" for Marines at Camp Pendleton, and he does not oppose other organizations, include nonreligious groups, accessing the base.

"We have men that go down [to Camp Pendleton] and we provide food for the fellows and … parties and picnics for them and their families," Smith said. "We do spend quite a bit of money helping them."
I'm impressed at the neutrality, and ethical journalism at the Marine Corps Times. I don't mean that as an under-handed compliment – this reporter did a fantastic job all around.
Please read the rest of the article, and comment there. We've generated a few trolls already!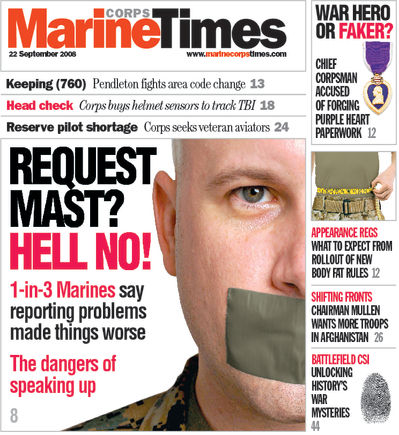 (This is a randomly chosen cover image from an old issue. FYI – Paul Loebe had to 'Request Mast' for his involvement in RBB2. Someday you'll hear the whole story. Maybe.)