I discovered a video that is probably about to be deleted. The video features a 2-star general stumping for Centurion's Watch – a traveling bible-based marriage retreat aimed at military members.
www.youtube.com/embed/yZc41S_BDfA#t=207
"Centurions Watch is a wonderful way that you can help. Any donation or resource that you can give this organization – it's faith-based. It's wanting to keep families together with the stresses and strains of being apart, being in harm's way, risking their lives for this country. I can't think of a better organization that you can support. So if you want to give back, if you want to have some way you can help, I would highly encourage that you support this organization." – Maj. Gen R. Martin Umbarger
Maj. Gen. Umbarger is the Adjutant General of Indiana. He leads all of the state's Army and Air National Guard and Guard Reserve units. Commanders have to be careful not to give the appearance of selective treatment. I'm surprised that this wasn't vetted and then squashed. Centurions Watchhas a disturbing mission:
Centurion's Watch is a faith-based nonprofit organization that uses practical, thought provoking biblically based education and support to transform America's Reserve and Guard families into strong, healthy and ready military families.
They want to transform existing marriages into "Pray together, Stay together" styled families. Arrogant, and disgusting.
Conflict of interest on Facebook, YouTube
Indiana's 181st Intelligence Wing's official Facebook page advertised a $70/person marriage retreat event sponsored by Centurion's Watch. Atheist service members began contacting me. I'm sure my readers will start commenting there. Please do so, but be respectful. It's entirely possible that both the Facebook post – and the youtube video for that matter- will be deleted soon, so act fast.
Don't non-Christians deserve an equal opportunity? Yes, of course. The divorce rate in the military is very high. Roughly one in every 27 married soldiers got divorced in 2011. The best way to avoid the appearance of providing a selective benefit is to offer a universal secular marriage counseling program. (And don't get me started on the 'Strong Bonds' program.)
Why would the government endorse a such a blatantly sectarian approach? They aren't supposed to. The regulations are quite clear.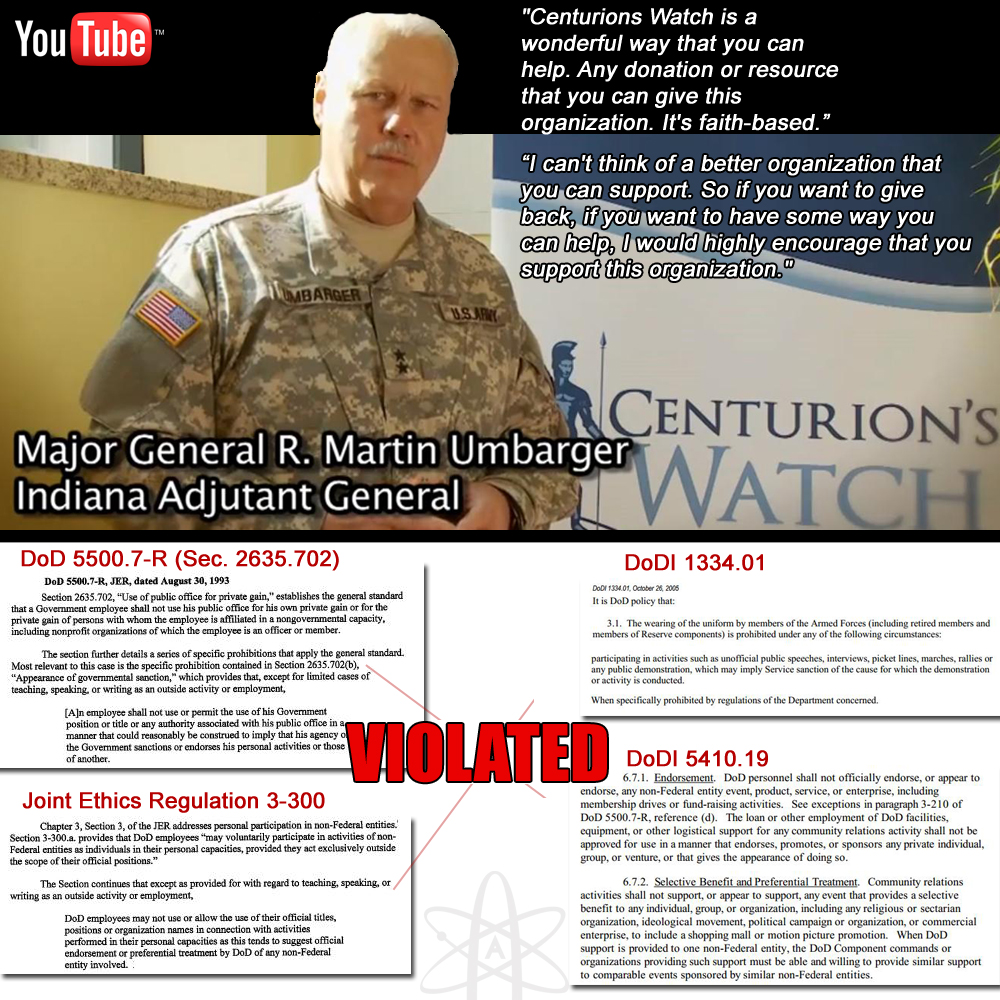 (Click to embiggen) After I discovered that video, I pretty much immediately realized that I couldn't fight this battle. That's a rare statement coming from me. Situations like this are exactly why the Military Religious Freedom Foundation exists.
Take it away, MRFF!
Mikey Weinstein, Founder and President of MRFF, makes a devastating case against Maj. Gen. R. Martin Umbarger.
General Craig R. McKinley Chief, National Guard Bureau
Dear General McKinley, I am Mikey Weinstein, Founder and President of the Military Religious Freedom Foundation (MRFF), a nonprofit civil rights advocacy organization currently representing over 29,000 active duty United States soldiers, marines, sailors, airmen, service academy/ROTC cadets and midshipmen, reservists, national guard personnel and veterans. For the record, approximately 96% of our clients happen to be either practicing Protestants or Roman Catholics. In the matter referenced below, MRFF presently represents 31 members of the Indiana Army and Air National Guard, 27 of whom are practicing Christians. All 31 of our MRFF clients fear that they will suffer significant reprisal and/or retribution for bringing this travesty up through their chains of command, or to the other "usual suspects" (JAG, EEO, IG, Chaplains) for redress. Thus, they have come to MRFF for us to speak on their behalf.
I write you today about a most disturbing and disgusting matter. As one picture is worth a thousand words, please watch this video to see an astonishingly brazen, bold and blatant violation of DoD regulations, instructions, and directives by the current Adjutant General of the State of Indiana, Major General R. Martin Umbarger.
In this video, Maj. General Umbarger is incontrovertibly endorsing, as the most senior Commander of the Indiana Army National Guard and the Indiana Air National Guard, a private sector entity which is clearly a comprehensively sectarian, proselytizing, fundamentalist, evangelical Christian parachurch organization by the name of "Centurion's Watch". This pernicious and craven video speaks for itself. In it, Maj. General Umbarger apparently violates DoD Instruction 5410.19 (re: "selective benefit"), DoD Directive 1334.1 (re: "endorsing a non-Federal entity") and Joint Ethics Regulation 2635.702(b) ("use of Government position, title or authority to imply Government sanction or endorsement").
In case you need any reminders about the formidable magnitude of Maj. General Umbarger's official malfeasance and/or misfeasance in this present matter, I will take the liberty of refreshing your memory by directing you to review the so-called "Christian Embassy" scandal, which MRFF brought forth into the national media in December of 2006. The DoD IG, several months later in the summer of 2007, specifically faulted a number of senior military officials, including flag officers, for doing essentially the exact same thing in a fundamentalist Christian, parachurch, promotional video that Maj. General Umbarger is doing in this instant matter by officially endorsing "Centurion's Watch" IN UNIFORM.
An additional matter of grave concern here focuses on Army Chaplain (Major) Doug Hedrick, the apparent founder and director of "Centurion's Watch." I am sure you can appreciate the galaxy of nontrivial, potential DoD conflict of interest issues that surround his promotion and operation of his own private sector, evangelizing ministry while, seemingly, concomitantly still in the U.S. Army (Active duty? Active reserve? Active national guard?) in whatever capacity if any, he might currently hold as an Army chaplain. In fact, the mind boggles as to what is actually, as a matter of law and practicality, going on here with BOTH Chaplain (Major) Doug Hedrick and Major General Umbarger vis-à-vis "Centurion's Watch"?
General McKinley, on behalf of our 31 Indiana Army and Air National Guard clients, MRFF hereby demands that you immediately order Maj. General Umbarger and Chaplain (Major) Hedrick to cease and desist from any further violations of DoD and/or UCMJ mandates regarding their overt endorsement of and participation in the parachurch proselytizing organization "Centurion's Watch". MRFF also demands that you immediately and aggressively investigate both Maj. General Umbarger's and Chaplain (Major) Hedrick's comprehensive actions in the development, promotion and operation of "Centurion's Watch". Lastly, in the likely event that you find DoD and/or UCMJ regulatory violations committed pursuant to your investigations, MRFF demands that Maj. General Umbarger, Chaplain (Major) Hedrick and any and all other complicit individuals be severely punished.
Sincerely, Michael L. "Mikey" Weinstein, Esq. Founder and President, Military Religious Freedom Foundation
Don't let them ignore this!
Mikey Weinstien's passionate letter expresses what many of us can't. Get your megaphone out. Sometimes, military members need you to speak for them. Please send your concerns to the local media. Here are some contacts.
Fort Wayne
Journal Gazette
Newsroom email: jgnews@jg.net | phone number: 260-461-8773
News Sentinel
Newsroom email: metro@news-sentinel.com | Phone: 260-461-8354
Indianapolis
Indianapolis Star
Sharing this on social networking sites helps us a great deal. Use those buttons for great justice!