In the interest of accuracy, I've got some new information in the story about the man who attempted to drown Dolly the cat.
First of all, that's her new name, Dolly. Her new foster family picked it because she's 'just a doll' and overwhelmingly friendly. She still needs to be adopted to a permanent loving home, but not until she makes a full medical recovery.
Second, it seems that 'religious mania' possibly played less of a part in this man's rage than was previously communicated to me. He did indeed claim that Dolly was 'from hell' and 'evil' on Wednesday. However, this type of language was not present in his cage-rattling screaming rage fit at Highland Animal Hospital on Friday. His hateful Friday rant included an admission of attempting to drown the cat, and other troubling statements, but nothing religious. Who knows what this guy's problem is, really.
It's still an animal cruelty story. And you can help.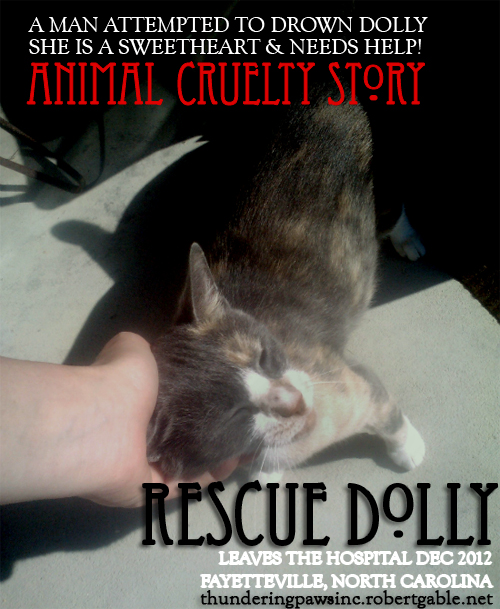 Please
adopt
or
donate
to the excellent
Thundering Paws
501(c)3 rescue. They have *no* overhead costs yet rescue and place hundreds of animals. If you don't have the scratch to spare, please consider hitting one of those social networking share buttons below to raise visibility. It's free, and it takes 5 seconds.
My wife rescued this (then very pregnant) abandoned cat, and she was placed with a foster family. All three of her kittens are now dead, and the circumstances are atypical even for the rare cases feline infanticide. She then survived a drowning attempt. This morning she was recovering from a ovariohysterectomy surgery, and is in stable condition. Two local media outlets have expressed interest, and I hope to see something soon.
Check out the original post for much more information.