Virginians, this parade needs some bodies to march in solidarity. Why? To attach a human face to the word 'atheist' (or, humanist, secularist, freethinker, etc. – just be you.) Please show up and help normalize non-belief!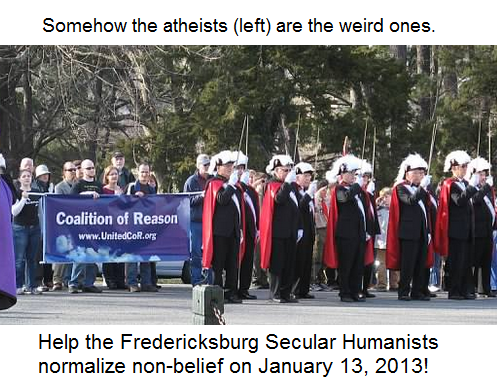 On Sunday, January 13th 2013, the Fredericksburg Secular Humanists (FSH) will be participating in a parade and ceremony to celebrate the Religious Freedom. The event is held every year in Fredericksburg to commemorate the drafting of the Virginia Statute for Religious Freedom drafted by Thomas Jefferson in 1777 and later enacted by the Virginia Legislature. This act is one of the only three things Jefferson wanted on his epitaph, keeping in mind that he didn't consider being President to be important enough to list. It is also one of the major cornerstones of the idea of true religious freedom, along with the charter of Rhode Island, that cemented the idea in the minds of Madison and the rest of Congress when drafting the Constitution and later the First Amendment.
The event, somewhat ironically, is being led by a joint committee of the Knights of Columbus and the Knights Templar, two groups not known for their support of freedom of religion beyond the confines of Christianity itself. On recognition of the value inherent in the larger principle, however, this will be FSH's second year participating in the march, and atheists and Humanists are encouraged to lend support to the cause by being counted among those participating. FSH will be meeting at the Fredericksburg train station by 1PM, and the parade will kick of shortly thereafter. The parade route leads from near the station to a statue in town commemorating religious freedom, and is typically followed by a few speeches. The entire event usually takes less than two hours.
Virginians and D.C. area atheists are encouraged to RSVP here (which provides maps and more information anyway.)