Camp Pendleton's decision to reject our proposal violates federal ethics regulations. This is certainly a huge step in the wrong direction. We're still willing to work with officials before the San Diego area Marine Corps base is entrenched in a legal battle they can't possibly win.
We've received mixed signals from Camp Pendleton in trying to organize Rock Beyond Belief 2. Initially, they were on board with treating us with equality. We are simply demanding the same access, treatment, and support as the Armor of Light ministry has received for over a decade. They've put on numerous massive evangelical festivals featuring rock bands and speakers, all intent on explaining why service members (and their families) need to drop their current religious preference and become born again Christians.
Then late last year something abruptly changed over at the Armor of Light website. They 'went dark', regarding public announcements of their events featuring command endorsement, sponsorship, or access to military bases. This was the entirety of their mission, so now they've got absolutely nothing to post to their 'upcoming events' calendar.
Here is a screenshot from this morning, 5 January 2013.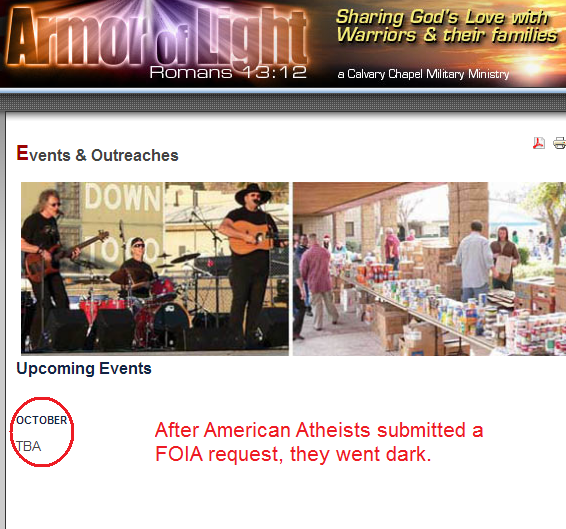 Right around the same time AoL went dark, American Atheists' Freedom Of Information Act (FOIA) request had been processed. Look at the highlighted portions of this document [pdf] to see what was missing out of the information we requested. Half of what they did send us was improperly redacted beyond legibility. Even then, the contents constituted a tiny fraction of what we asked. No explanation was given.
Previously, the apparent full-stop in the special treatment for Armor of Light looked like a positive development. However, a few weeks ago, AoL and Camp Pendleton collaborated on a medium-sized event. Though not a full-blown concert, it had all the same hallmarks of the event we're trying to put on.
It featured a live music performance from at least one group (using relatively expensive pro-gear). There was face-painting, multiple 'bounce houses', balloon animals, and other activities aimed at children. There was food, and a very large building's worth of seating arrangements (typically rented). Adults and kids sparred in padded sumo wrestler suits. This happened on Camp Pendleton with the full endorsement of a large tenant unit, and the use of government facilities, personnel, and equipment.
Ian Cherry, the same Camp Pendleton official who assured us equal treatment back in May, recently informed American Atheists that RBB2 couldn't be supported. The reasons he gave were ridiculous, and we're considering legal action shortly. The crux of their argument is that it would be 'too costly', despite the fact that American Atheists was ready and willing to pay for the event. Mr. Cherry also cited one other obstacle – they don't have the manpower. It's odd that Camp Pendleton has the manpower only when Armor of Light events are concerned.
They are bluffing and treating us like we're idiots, but we aren't just going away. Here's why: what they are saying is ILLEGAL. These regulations couldn't possibly be more clear: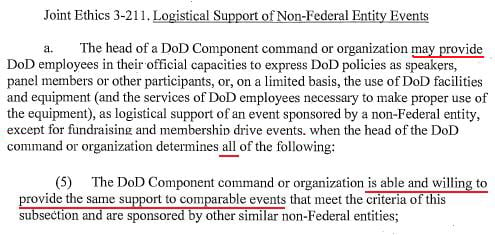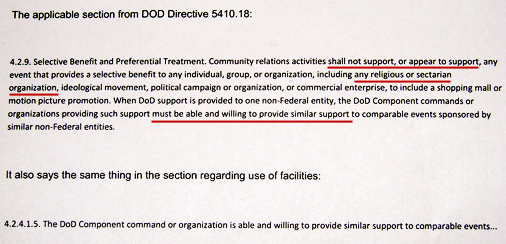 They simply don't have the option to tell us 'No' from a legal perspective.
Here's how the funding piece works- In 2012, American Atheists paid for the first RBB (by way of a $50,000 donation from Stiefel Freethought Foundation) – mirroring the Billy Graham Evangelical Association's spending for the event that prompted RBB. The Billy Graham Evangelical Association no longer does massive festivals on military bases for some mysterious reason. Sources for the funding regarding AoL activities at Camp Pendleton are still completely unknown. We have no idea if tax-payers footed a lot of the bill at Camp Pendleton, but we sure as hell intend to find out.
This Armor of Light ministry is not without embarrassing controversy. They fall under the Calvary Chapel Costa Mesa umbrella, an evangelical movement steeped in (failed) end-times predictions, and mired with a large number of sex abuse cover-up scandals. The center of this storm is right outside of San Diego. There is a lot of money and power funneled into the area by way of a 1000+ church sect (Calvary Chapel) with flagship CCCM at the head.
We backed off temporarily for a few reasons. Chiefly, we thought they might have re-evaluated their history of special treatment for Armor of Light ministries, putting a stop to it. Large scale festivals with sectarian nature (Christian, Jewish, Atheist, Wiccan, etc.) are specifically illegal on military bases – unless they are willing and able to support any other comparable event.
We'd gladly go away if they make a very firm written commitment to stop all of these sectarian concerts, festivals, and the other events from outside organizations. That would be the easiest way to enforce the laws, and is the recommended course of action in the actual regulations. Unfortunately, it's apparent that they decided to fight against equal treatment, and for sectarian favoritism.
We ran into similar bluffs and tactics before. They didn't work last time. We're still hoping that Mr. Cherry is ready to talk about Rock Beyond Belief 2 as a festival, and not as a lawsuit.
It took 18 months to pull it off at Fort Bragg, and it was cutthroat the whole way. I'm proud to say that Colonel Sicinski and the rest of  Bragg's leadership really came through on the right side of history, embracing us openly on the Main Post Parade Field. Camp Pendleton has nothing to fear and everything to gain by following the precedent we set last year.
It's not over, by any means. We'll likely resubmit our proposal and  spend all of two sentences specifically addressing their nonsensical objections. I've played this game before. We'll be updating the official Rock Beyond Belief website shortly.