HomePost's Beth Ford Roth writes:
A transgender woman named Elizabeth Tremblay, who deserted the Marines 31 years ago when she was Pvt. Donald Tremblay, learned today she will get a discharge "with honorable conditions."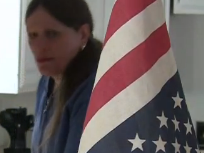 HomePost has the full story including a short video interview. That interview was done before the Marine Corps decided her fate. I think you can tell she really loved being a Marine.
I'm glad the USMC made the right call, and gave her an honorable discharge. Congratulations, Elizabeth.
The DoD really needs to step up and do the right thing regarding transgender service. The repeal of DADT did nothing along these lines, making it quite the missed opportunity. It's not like there will be a more convenient time to handle it. Somebody needs to just make the right call, despite the 'PAO disaster' they might fear. After a couple of years, this decision would be celebrated or forgotten.
Perhaps in a few decades, service members will be participating in 'transgender history month' or entering a 'LGBT equality 5k run'. There's already a 5k run and awareness month for just about every one of yesteryear's struggles.