American Atheists just pulled off a huge win in Afghanistan. This is illegal:
Kari Huus at NBC News reports:
U.S. military commanders in Afghanistan on Thursday ordered the removal of a steeple and crucifix erected over a remote American base in the Muslim country after a soldier deployed there noted that the symbols violated Army regulations, and could reinforce suspicions that the United States is fighting a holy war.

It is unclear how long ago the Christian symbols at the chapel at Forward Operating Base Orgun-E had been in place. In terms of religious displays, they are hardly ostentatious — a cross on a small rooftop steeple and cross-shaped windows in the doors. But Sgt. Joel Muhlnickel was alarmed by the symbolism at Orgun-E, especially the cross that rises up over the rooftops at the base.

"When I think of an army sporting a Christian cross, I think Crusades," Muhlnickel wrote in an email from Orgun. "Neither my country nor my army force me to swear allegiance to Odin, Jesus, Buddha or Horus. Freedom from religious oppression is pretty much the reason why the United States was founded."

[SNIP]

Muhlnickel raised his concerns through his chain of command, and then — unconvinced that it would result in action — turned to outside organizations, including the nonprofit American Atheists.

"Chaplains know the regulations very well," said Justin Griffith, an Army sergeant at Fort Bragg, N.C., and military director for American Atheists in his personal time. "Whoever authorized (the steeple and crosses) knew exactly what they were doing. It's intentionally disrespectful to the non-Christians in the U.S. military … Put it in Afghanistan, the danger is very real, to personnel, even to Christians."
Are you familiar with the phrase 'CYA'?
I'm not sure if that's a military thing. It stands for Cover Your Ass. NBC caught the Pentagon with its pants down. They replied as if they had already fixed the situation, and I'm fairly certain they tried to play it off like they had already been working on it 'way before NBC called'.
The Army, contacted by NBC on Tuesday morning, responded to queries Wednesday afternoon, saying the cross had been removed and boards had been placed over the cross-shaped windows while the base ordered new doors.

"The local command in Afghanistan is aware of this chapel and has taken appropriate action to ensure that it is changed into a neutral facility," said a statement from an Army Spokesman at the Pentagon.

Hours later, Orgun command sent out a memo throughout the base explaining that the chapel was to be brought into compliance by eliminating the crosses, and assuring soldiers that it would be handled in a respectful manner.
In other words:
"Hey there NBC… we totally already took that stuff down. In fact, we'd been planning to since we heard bout it!" Hours later, "Guys, take that stuff down right now so they don't know I just lied to them!"
I expressed extreme concerns that some hotheaded leader may try to scapegoat Sgt. Muhlnickel for what they should be thanking him for:
Griffith, an atheist who often calls out practices that he believes cross the line from the free exercise of religion to unconstitutional proselytizing or discrimination, has learned that his views are unpopular with many in the military. He's concerned about Muhlnickel suffering reprisal.

"Sgt. Muhlnickel's efforts just put the pin back in the grenade," said Griffith. "The military now needs to protect him from any backlash … and not punish him for speaking out against the dangerous 'crusader' symbolism."
Honestly, all Americans benefit from this. I'm glad the military reacted to American Atheists demands (PDF) so quickly, even if it actually took an NBC reporter asking the questions to actually get anything done.
It would be nice if they did the right thing, even when no one was looking. It seems that our official complaints often fall on deaf ears. Luckily I had one of these built: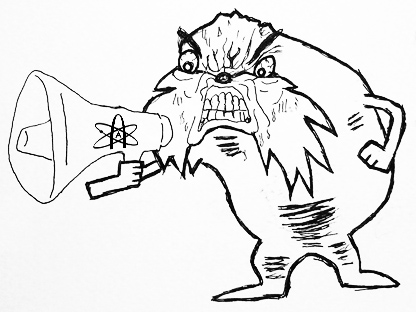 Attention all military personnel: if you witness a chapel do anything like this, take pictures and contact me immediately. I'll fix it, immediately.
You may even have some luck with your chain of command. Here's the regulation that applied in this case:
Army Regulation 165-1 "Army Chaplain Corps Activities"

12-3 Religious Facilities

k. Symbols. The chapel environment will be religiously neutral when the facility is not being used for scheduled worship. Portable religious symbols, icons, or statues may be used within a chapel during times of religious worship. Symbols are to be moved or covered when not in use during services. Distinctive religious symbols, such as crosses, crucifixes, the Star of David, Menorah, and other religious symbols will not be affixed or displayed permanently on the chapel interior, exterior, or grounds. Permanent or fixed chapel furnishings, such as the altar, pulpit, lectern, or communion rail will be devoid of distinctive religious symbols.