Illegal modifications to a military chapel in Afghanistan were abruptly reversed thanks to American Atheists. They had installed the only known church steeple in Afghanistan, and cut giant crosses into the doors of the 'religiously neutral' building. At night, light would emit from the crosses on the doors, shining like a miniature searchlight.
Yesterday, Fox News Todd Starnes wrote an article that piggybacked the excellent NBC coverage that broke the story. These comments were all posted at Fox News in the last 24 hours. In no particular order…

I know it's not very easy on the eyes, so the rest are below the fold. The last one will probably *shock* you.
I saw a lot of great counterpoints, and some pretty dedicated counter-trolling. I'm not sure where Bob falls on the spectrum, but this was my favorite 'good guy' comment.

I promised you that I'd save the most shocking for last.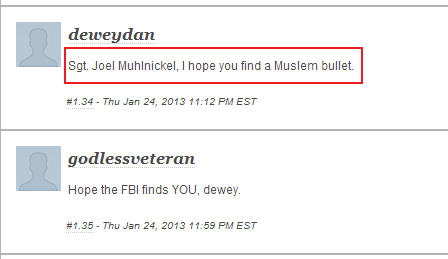 Notice the different font? That's because this one – arguably the worst – was actually posted at the NBC article. How's that for a twist ending?