This is going to be a 3 part series…so please stay tuned!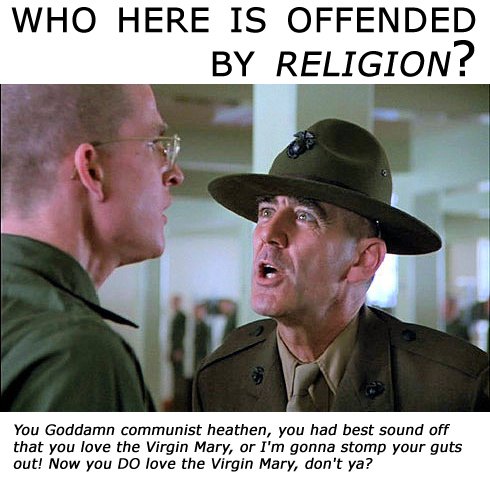 The fear is
So many people have come to thank me for coming out as not only an atheist in the military but an activist as well. I've heard harrowing stories about how some people have had their careers completely sidelined due to the fact that they are atheists. I wanted to convey some of those stories now. When I am able and when those people are willing I will divulge that information. However, many of these people are still on active duty and afraid to come out. They fear retribution even more than the harsh and unfair treatment they have already received.
*All Names are made up to protect the innocent victims from further victimization.*
 The Army Captain
I recently met this Captain in the U.S. Army. He's been in for quite a few years and initially wanted to come out and tell his story to the public. Eventually he will…
For now he'd wish to remain anonymous. He's still active duty and has a family to protect from the evangelical fundamentalist community that HOLDS THE OFFICER CORPS captive!!!
He tried his best to hide his atheism from the Officer Corps for as long as he could. He was hounded by superior Commissioned Officers to attend prayer breakfasts, prayer meetings, god discussions and the like. For the longest time he was able to circumvent them through feeble excuses and the like. He was a junior Lieutenant at time. Eventually he was confronted by a Colonel about his lack of involvement within the "Christian" community and admitted to his superior that he was in fact an atheist.
He exclaimed as respectfully as he could that he was uncomfortable supporting a religion he didn't believe in and felt that it was a horrendous act to even pretend he believed. Rather than respecting the openness and honesty of such a moral decision this "Christian" officer backhandedly destroyed an atheist's career.
The atheist officer was actually one of the finest officers in the Army. He had a perfect score on the physical fitness test, was a valuable leader, and was well-respected by not only those he led but his peers as well. Unfortunately, his religion, or lack thereof, will result in his removal from the army later this year.
For years he was a star performer. Not only was he a leader but he also happened to be the ONLY officer within his entire battalion to achieve a perfect score on his physical fitness test. YES! The only officer to attain a PERFECT score in physical fitness. He led, motivated, and trained his soldiers and didn't meet the standard….he SET the standard. Well, that's good enough, right? Wrong! Apparently, in the US Army you need to go above and beyond that in order to receive good marks for your performance….
So this superb officer was relegated to #2 when time came for evaluations. And I'm sure we're all wondering why. Well…
As it turns out…
If you attend mandatory prayer breakfasts, prayer meetings, and other sectarian ventures that are quite illegal to enforce as mandatory (even though they regularly are in the United States Army) then you can gain favoritism from you local Evangelical Fundamentalist Commanding Officer.
Here enters: Lieutenant Fatass McFundie. Lt McFundie was an overweight semi-achieving officer who paled in every way in comparison to Lieutenant "Nothing-Happens-When-You-Die" and yet he quickly made friends with Lt. Col Joshua Cristo. Kernel Cristo and Lt McFundie began to hit it off real well since they prayed together often at all the illegally mandatory religious events being put on by the battalion.
The funny part that Lt McFundie enjoyed was that even though he was fat (quite literally out of military standards) and had no leadership ability he was still able to receive better marks than Lt Atheist because he cowered to the pressure of religious sectarianism within the US Army.
So when the time for evaluations came around the atheist Lieutenant with excellent leadership abilities was consistently ranked below the fat Christian. More than once! These officers aren't stupid. They know they can't sideline your career just because you are an atheist. They have to make up other shit so they can promote their friends of the same belief instead of you. Because religious discrimination is illegal, right?
Needless to say this has gone on for years for this (now) Army Captain. He has more to his story and doesn't want me to delve into all the details. But he will be sharing all of it by the year's end. He's getting out of the Army in a few months and will talk publicly to anyone who questions this because as he's told me
"I don't need the Army. The Army needs good officers like me."
Unfortunately they're promoting the second-rate ones because they are Fundamentalist Christians…
Next blog
I'll be telling you about a Marine Officer. He's managed to stay in the closet and so far his career hasn't been harmed. The hardest part is that most people aren't willing to come out and expose their story, which is understandable. It is the way they put food on the table and those who are in it for the long haul really want to be in the military because they genuinely enjoy it. Unfortunately, these Fundies are trying to overtake our military. It hasn't always been like this and it's our duty to ensure it remains a secular institution.
[important]The more that come out like Justin and me the easier it will be to expose and fight this extremism. At the end of this blog series I will be posting and publishing ALL of my fitness reports, evaluations, and master brief sheets online for all to see. Being an atheist SHOULD NOT hurt your career and I assure and promise you that if we start letting them know we are here and willing to bring down the hammer for this blatantly unconstitutional discrimination they will start to respect us.[/important]
Semper Fidelis.