The day started off with rain, not unlike The Reason Rally, but that did not stop American Atheists from unveiling the first monument at Bradford County Courthouse square in Starke, FL from being erected on government property.
The Good News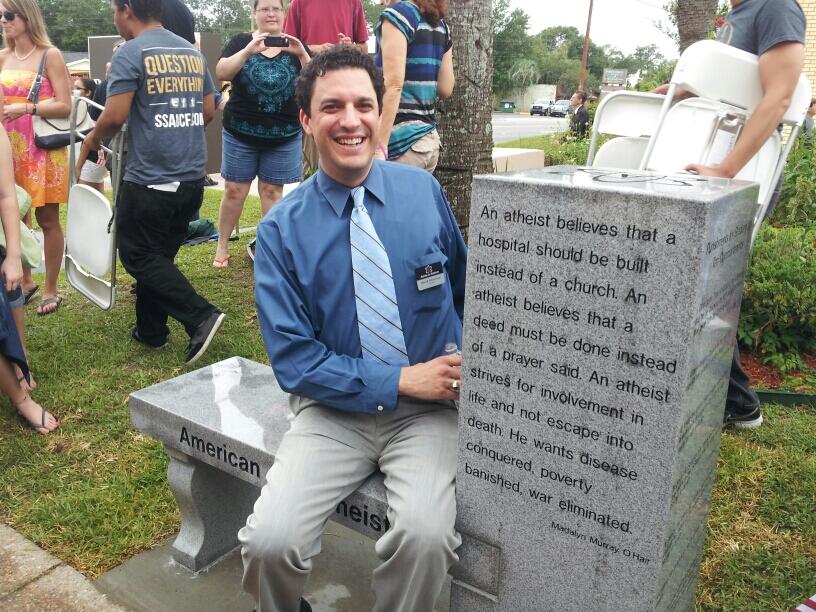 David Silverman, President of American Atheists, officiated the dedication ceremony. Over 250 atheists were reported to be in attendance.
The Stupid News
Protesters at the event were apparently unaware of what year it was. They were stuck at the back hanging their Confederate flags and hanging onto outdated hatreds for dear life.
Shown Disrespect
Eric Hovind of Creation Today is a program hosted by Eric Hovind, a Young Earth Creationist was in attendance. After the dedication ceremony finished while Mr. Silverman was taking pictures with the atheist attendees, Eric Hovind jumped on top of the monument. There are rumors circulating on twitter that he may have damaged the seal.
I contacted David Silverman and he stated
Eric did not damage the monument, but he was standing on top of it to preach to the crowd as we were trying to celebrate. He tried to mute the success of the event, but succeeded only in reiterating the need to fight for equality and vapid opposition we receive when we assert our rightful place in society.
It gets better!
During his speech Mr. Silverman announced through an anonymous donor there will be 50 atheist monuments placed throughout the United States.