Congress shall make no law respecting an establishment of religion…
A few days ago, the House of Representatives of the United States set aside work on real problems so that they could pass a ban, sponsored by Rep. John Fleming, to prohibit the armed forces from appointing atheists or secular humanists to the chaplaincy.  Rep. Fleming had this to say:
"The notion of an atheist chaplain is nonsensical; it's an oxymoron. It is absurd to argue that someone with no spiritual inclination should fill that role, especially when it could well mean that such an individual would take the place of a true chaplain who has been endorsed by a religious organization."
Really?  Let's examine that statement a little closer.  Why shouldn't someone with no spiritual inclination fill that role, which incidentally doesn't simply involve chaplains conducting religious services for their own faith group?  Instead, chaplains are expected to support all service members, regardless of their personal faith group.  A Jewish chaplain is expected to be able to lead Christian services and a Catholic chaplain is expected to be able to hold Muslim services when needed, so why does Fleming assume a Secular Humanist chaplain can't also do these things? Further, and more critically for this discussion, chaplains are called upon to provide religious and secular counseling for a variety of problems, including marital issues, domestic violence, anxiety, suicide prevention, and many other problems.  Again, why can't these services be provided just as well by a Secular Humanist?
Now, some might ask why non-religious service members might want or need to talk to a chaplain, especially when secular mental health services are available. Here's the critical difference:  when a service member sees a chaplain, there is an expectation that this is privileged communication and that conversations with chaplains are private and will not be disclosed to commanders or others.  However, there is no such guarantee when seeking mental health services outside the chaplaincy.  Not only is there an unfortunate social stigma associated with receiving mental health services, there is no expectation of privacy because the content of discussions can be disclosed to commanders and to investigators doing background investigations for security clearances.  See a chaplain and you are guaranteed privacy; see a secular counselor and risk your security clearance, your reputation, and even your career.
Here's a couple of stories to demonstrate my point.  Both these stores are true stories from real people that I personally know, although their names have been changed.
The believer
Service member one, who I will call Mike, is a Christian at a large military base.  Mike just returned from deployment and he is having trouble communicating with his wife and reintegrating into his household so he realizes he needs counseling.  He seeks out his unit chaplain, who is most likely a Christian like himself because most unit-level chaplains are, and asks for assistance, which he quickly receives.  Through the work of the chaplain, which included both Mike and his wife, Mike received counseling supplemented with prayer, and was able to receive as many sessions as he needed to resolve his issues to the great benefit of his family and his mental health.  He did not have to discuss his sessions with his commander and when his next security clearance investigation came up, he did not have to disclose he had sought and received counseling.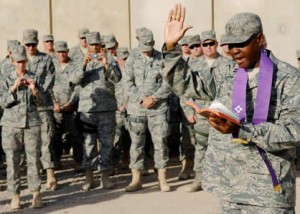 The non-believer
Service member two, who I will call Jenny, is an atheist at the same base and unit as Mike.  Jenny also just returned from the same deployment and its also having trouble reintegrating with her family at home.  She knows the only way she can get secular counseling is to risk the stigma associated with seeking out mental health services so she elects to also see the chaplain.  During her first and only session with the chaplain, the chaplain tells her there are no such thing as atheists, because people who are atheists are simply people who have lost their way to God.  He further tells her that he has a duty to help her accept Jesus into her heart and until that's done, he cannot help her resolve her marital and family issues.  Because she's worried about her family, she seeks out and receives competent counseling through her installation's behavioral health center but to do so, she had to inform her chain of command that she was seeing a counselor and when her next security clearance investigation came up, she was required to disclose that she had sought counseling and what that counseling was for!  She was subsequently informed that the content of her counseling sessions would be obtained from her counselor and reviewed for any material that could cause her to be a security risk.  Also, since her installation behavioral health services department was overextended by the critical need to treat service members with post traumatic stress and brain injuries, she was referred off-post to see a counselor but was limited to the handful of sessions her insurance, TRICARE, would cover and was advised if she wanted more services, those would have to be paid for out of her own funds.
Seems unfair, and it is.  I ask again, why shouldn't someone with no spiritual inclination be allowed to fill the chaplain's role for service members like Jenny?
You can reach Rep. Fleming here:
Please do reach out and inform him yourself of why this amendment is such an egregious violation against non-believing service members.