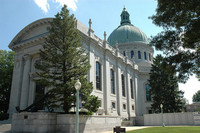 Recently, I learned that Naval Academy's beautiful chapel has one major flaw – if you aren't Christian and want to use the facility for your wedding, that's just too bad, because unless you are a Christian, this government owned and operated facility isn't for you.
See here for details:
Naval Academy Refuses Use of Chapel for Non-Christian Wedding
There are plenty of atheists, humanists, and others of a secular bent who want to enjoy the formal trappings of a formal wedding without the religious stuff, and there are lots of humanist celebrants who are licensed in their states to perform such ceremonies.  Secular/civil ceremonies are legal in every state, and plenty of churches and other spaces have been used for such ceremonies.  What do they think is going to happen – that the facility will somehow become defiled if used for a (loving, respectful) non-Christian purpose?
The American Humanist Association and the Military Association of Atheists and Freethinkers is working on this matter and have requested the United States Naval Academy Superintendent Vice Adm. Michael H. Miller and Senior Chaplain Commander Michael Gore reverse the decision and confirm whether or not non-Christians are truly banned from using the chapel, but as of this writing, had not received a response.
I wonder if a Jewish or Muslim sailor would also be banned from holding a wedding there or if this "policy" is something they made up on the spot specifically to discriminate the non-religious?
It saddens me to know that even in our modern, supposedly enlightened times, a loving couple wanting to get married in a beautiful, historic setting can be banned in America simply for not holding the correct faith.