Road Trip!
Adam, a friend of mine who served in the Army, is currently making a cross-country road trip. He's a pretty outspoken atheist, a combat veteran who was highly decorated in Iraq, and a pretty cool guy to boot! He was in the Army, which isn't as cool as the Marines, but I forgive him for that every time he buys me a beer. 🙂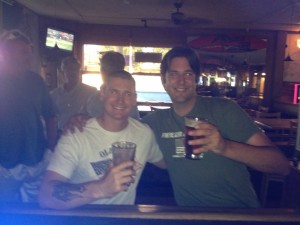 This year he made his way through Arizona driving to Vegas en route to TAM 2013. For those of you unfamiliar with TAM – it is The Amazing Meeting put on by the great magician James "The Amazing" Randi. I'm sure most of you know about TAM but it was my first. I ended up staying in the same hotel room with Adam and he gave me a lift back to California on his cross-country road trip. Just a few hours ago he recounted this story to me about how he may have been profiled because he was an atheist.
I was driving to TAM from Phoenix when I noticed I was being followed by a police office in Surprise AZ. We were the only two card on the road so it was not hard to notice. After about 5 miles of him following me really closely he pulled me over. He asked me if I knew why I had been pulled over, I said no since I had the cruise control set at the speed limit. He told me I had thrown my cigarette out the window. I told him I did not think this was true and showed him the astray in my car with my previously smoked cigarette butt. He acknowledged it and then asked for my licensee and registration and asked where I was going. I have him both and told him I was heading to a convention in Vegas. After this he took a long time before coming back. When he did he informed me to be careful with my cigarettes but that my registration was 8 days overdue he would be writing me a ticket. I assumed it would be a basic ticket or hopefully a warning, instead he gave me a Criminal Traffic ticket with a mandatory court date. I was surprised but didn't think anything of it.
So no big deal, right?
I guess not. Oh, did I mention this is his license plate: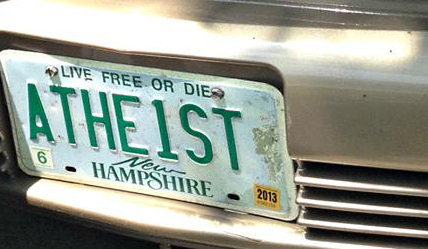 Yeah! Talk about having some pride…or something. I thought it was hilarious. He loves to engage people. He's even got a bumper sticker on his rear bumper with his cell phone number so concerned theists can give him a call to debate…or denigrate him depending on what kind of a person they are.
Nonetheless, this is obviously what the officer witnessed on a lone car driving down the highway in a deserted stretch of desert. I could make some general assumptions but I'll allow your mind to wander while I just throw some facts at you.
That's what I found in five minutes of browsing. So with all that in mind is it too much to assume that he got profiled for being a non-believer in the state of Arizona? Actually, I would say yes that is too much to assume. Far too much. The officer could merely have been doing his job, however…
It's a good thing military guys show up early
Adam showed up to the courthouse a few days early when he was passing back on through Arizona because he's a pretty squared away fellow. This is what he recounted to me:
When I made it to the courthouse before my court date I showed them my registration. I did this because I didn't think much of it, assumed I would pay a fee after proving I had up to date registration. I'm a student on summer break without a permanent address during the summer so I had to get temporary registration through the state until I am assigned a dorm room next month. When I showed the clerk this they told me I had to meet with the prosecutor. When I did, he informed me of what his role would be and that I could request a lawyer at any time. Then he told me what at stake: a $750 fine and 4 months in jail with a criminal conviction on my record. I was shocked, had this gone through I would have lost everything. When I showed him my paperwork he changed it to a normal ticket with a $200 fine. When I asked him if this was typical he informed me that this type of charge typically gets handed to someone with a driving record or someone with over a year unregistered plates. I was 8 days over.
The incredulity of the level at which the officer placed the charges blows my mind. I'm not a legal expert but I did research the codes involved on this sheet and what is involved with writing it up…but I assume that an officer of the law knows the difference and the probability of him making a mistake of that magnitude is highly unlikely. Here's the charge sheet: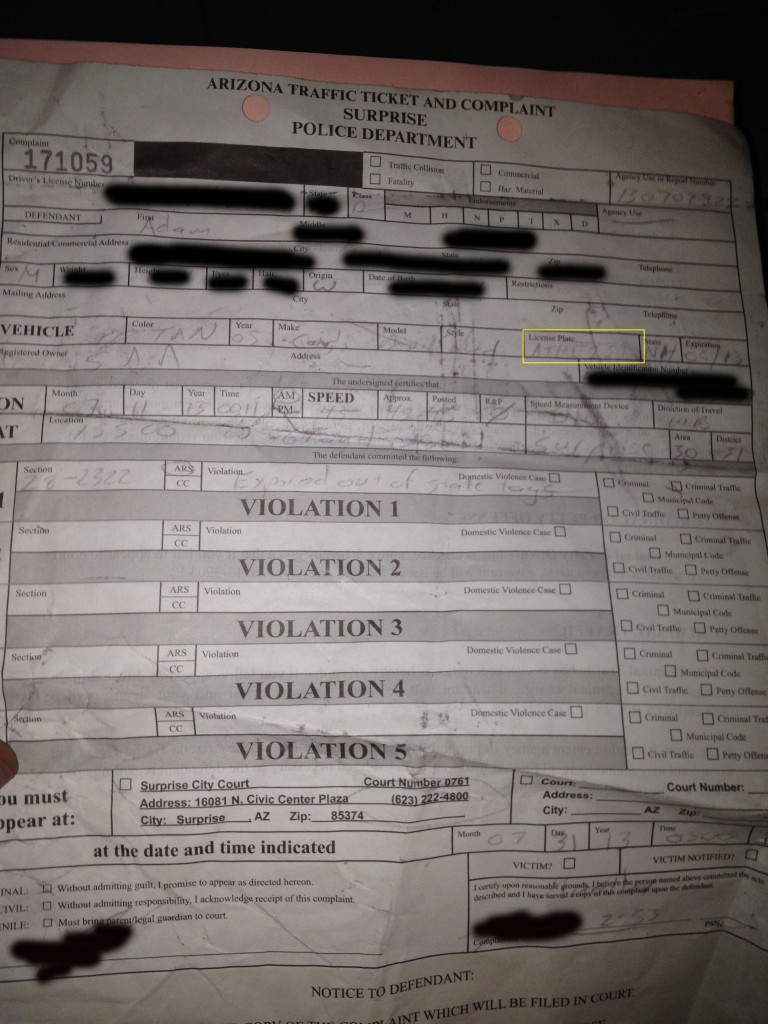 I redacted the signatures and personal information because I don't want somebody getting a new credit card or sending out hate mail to Adam. It's a photocopy but you can make out the code. Section 28-2322
A person shall not operate a foreign vehicle owned by a nonresident on a highway and a nonresident owner shall not knowingly permit the foreign vehicle to be operated on a highway unless there is displayed on the vehicle the license plates assigned to the vehicle for the current registration year by the state or country of which the owner is a resident.
That makes sense, right? Except that he was exempt from that specific Section (and the following two) based upon the previous Section 28-2321
C. Sections 28-2322, 28-2323 and 28-2324 and this section do not apply to:

1. A foreign motor vehicle that is owned by a nonresident and that would be exempt from payment of gross weight fees under section 28-5432 if the motor vehicle were owned by a resident of this state.

2. A foreign motor vehicle that is owned by a nonresident and operated in this state for the transportation of property in the furtherance of a commercial enterprise and that is either:

(a) Commonly referred to as a passenger car or station wagon.

(b) Commonly known and referred to by manufacturer's rating as a three-quarter ton or less pickup truck or three-quarter ton or less van.
And section 28-5432 (linked above) states this:
B. This article does not apply to:

1. A vehicle commonly referred to as a station wagon or to a vehicle commonly known as and referred to by the manufacturer's rating as a three-quarter ton or less pickup truck or three-quarter ton or less van unless such a vehicle is maintained and operated more than one thousand hours in a vehicle registration year for the transportation of passengers or property in the furtherance of a commercial enterprise. An applicant requesting title or registration of a motor vehicle in the name of a commercial enterprise shall pay the fees imposed by this article unless the applicant certifies on the application that the vehicle will not be maintained and operated in the furtherance of a commercial enterprise.
The bottom line is that everything within the scope of this law exempted him from the charges he was filed under. The officer should have known. I figured it out pretty quickly by a quick internet search and the officers have their own database in every computer in the squad car.
This may or may not have been an attempt to get back at him for being an out Atheist. We might not know. I don't want to throw out the accusation, either. But I'll just say be careful if you are an adamant atheist traveling through Arizona. It's clear from their leadership, their politics, their schools, and their law enforcement that they are not friendly to non-believers.
The thing that really made me pause and evaluate even writing this was that this single incident could have destroyed Adam's career. He's a student at Dartmouth and has a budding future ahead of him. This was the closing statement from Adam:
I did not know until appearing at the court that I was facing jail for such a small mistake. It could have cost me my college career. The only reason I can think of why the officer charged me so heavily was because my license plate says ATHE1ST.
Well brother
I'm glad it didn't turn out that way, but I can't say I'm not entirely shocked. Angry, perturbed, and in a WTF state of mind…but not surprised.
Take this how you will. We're still the least-trusted group in the nation and sometimes I'm reminded of that.