At 11:48 EST this morning I was alerted by MRFF clients of a nativity scene that had been placed aboard Shaw Air Force Base, next to Memorial Lake.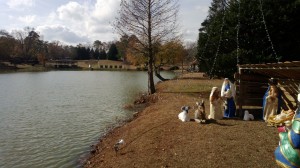 This in and of itself is not a problem. However, it was not within the vicinity of any chapel and was not part of a scene designed to accommodate all religious preferences, or no preferences, aboard the base. It was very sectarian in nature and a direct violation of the US Constitution as well as a blatant violation of Air Force Instruction 1-1 Section 2.11. As the new Special Projects Manager at the Military Religious Freedom Foundation I informed Mikey Weinstein, President and Founder.
When MRFF acts the Pentagon listens
Mikey reached out immediately to senior Air Force leadership at Headquarters Air Force at the Pentagon at 3:33 pm EST to inform them of this violation, request that they remove the nativity scene to a place that is Constitutionally compliant, and let them know that it had been officially reported by 41 of MRFF's active duty clients stationed at Shaw AF Base, both officers and enlisted, most of whom are either Protestant or Roman Catholics.
The Pentagon thanked Mikey for the information and promised to investigate the complaint as soon as was practicable. Once enough time had elapsed for the Pentagon to reach out to the local base Mikey then contacted the Command Post at Shaw AF Base, located in Sumter SC. The Command Post referred him to highest officer of the base, Colonel Clay Hall – Commander, 20th Fighter Wing – who was unavailable. Col Hall's office assistant asked who he was and what it was concerning. Mikey stated that posting this nativity scene was
a direct violation of Department of Defense Directives, Instructions, and Regulations, the United States Constitution, and Air Force Instruction 1-1, specifically, section 2.11
The assistant put him on hold. A minute or two later she came back saying that the Chaplain indicated a volunteer group put up the scene and that as they were speaking it was being taken down!!!
To the Air Force's credit it agreed with MRFF's arguments to remove the nativity scene swiftly and apparently found this scene to be as much a violation of all the pertinent regulations and the United States Constitution as MRFF did. Within 2 hours and 15 minutes of initially being contacted by MRFF, the nativity scene had been promptly removed. MRFF wants to congratulate the Air Force on acting so swiftly to reverse this egregious violation and hopes that in the future they will ensure that no such violations continue to occur.