Previously I told you why it was IMPORTANT to stand up and be counted as an "ATHEIST" and not a "NO-REL-PREF". Today, I'm going to tell you how.
Navy, Marine Corps, Air Force… You can put ATHEIST on your records all by yourself, in just a few clicks online.
Army: Walk in to your unit's S-1 office. Ask them to update your ERB or ORB. Tell them you want to fix your religious preference. Tell them you want "ATHEIST". If they say anything about it not being an option, calmly explain that they are mistaken, and to check the list (it's alphabetical for them.)
If you still need more 'proof', here is the regulation: AR 680-29 (page 41). I made a cheat sheet for you.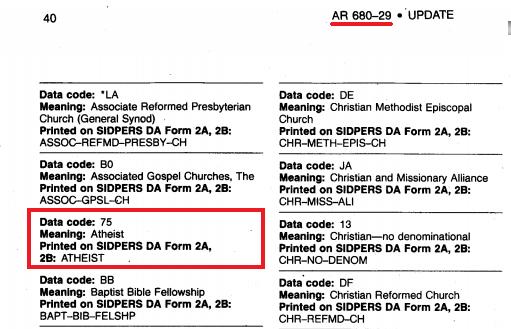 Bonus cheat sheet DoDI 1300.18(enclosure 7 – not attached in every online version.) Applies to all branches.

Navy: You can update your Page 2 online: https://nsips.nmci.navy.mil/ CAC login, non-email. –>Update Personal Information –> Religion, Race and Ethnic Code ZA for Atheist (thanks silentsacrifice!)
Marine Corps: You can update your records online directly from the MOL: (https://www.mol.usmc.mil/)
Air Force: Go to the Virtual MPF online through the Air Force Portal (https://www.my.af.mil/) Once logged in to VMPF, select VRed, update religious preference. Keep in mind, you can walk into the S-1 and they will do this if all else fails. (thanks Timothy!)
Coast Guard: ??? (Any coasties out there?)
It's not your fault that you didn't know ATHEIST was an option before. You know now. We all need to do our part to shatter the stained glass ceiling. This takes 2 minutes no matter what branch you are in.
Olaf sent a relevant message, quoting Harvey Milk.
"I would like to see every gay doctor come out, every gay lawyer, every gay architect come out, stand up and let that world know. That would do more to end prejudice overnight than anybody would imagine. I urge them to do that, urge them to come out. Only that way will we start to achieve our rights." In other words, I would like to see every atheist doctor come out, every atheist lawyer, every atheist architect come out, stand up and let that world know.
We're the last frontier of the Out Campaign. Out of the closet brothers and sisters! Don't let this happen to you:

-American Atheists Military Dept.