UPDATE: One of our community members has figured out where the Disqus discussion for the pastors' wives post is. All our discussions still exist, by the way, including that one; they just got temporarily detached from the blog when TWT was detached. So if you want to hang out on the Disqus page itself, here's the URL:
https://disqus.com/home/discussion/rolltodisbelieve/burnout_pastors8217_wives_confess_all/
We're also hanging out on the new forum, and you're most welcome to join us there too!
As you've probably guessed, I'm pushing the movie review back to Tuesday (starting the movie at 5pm PST), provided the comment section is re-attached by then; it doesn't seem like it'll be that hard–if it isn't, I'll update this post with new info as I get it.
Enjoy the weekend off however you'll be spending it, and we'll see you back here!
---
Hey y'all, just a quick post to say that the commenting system is temporarily down for maintenance. I'd asked for the World Table stuff to just be removed, but somehow that resulted in everything being removed. This problem will be fixed soon, I'm sure, and we'll be back on track with Disqus (hooray…).
I'm very sorry to have to write a post about it (the last thing I'd ever want to do is waste anybody's time), but a lot of folks here don't use social media, so this seemed like the best way to tell people what was going on.
If it's not fixed by Saturday (tomorrow), I'll move the review post of I'm Not Ashamed back appropriately since I expect that to be a heavy commenting day and I'd never dream of depriving us of sharpening our claws on this movie!
For now please enjoy this lovely pic I got of Lord Snow and Bumble sleeping together on the bed one night…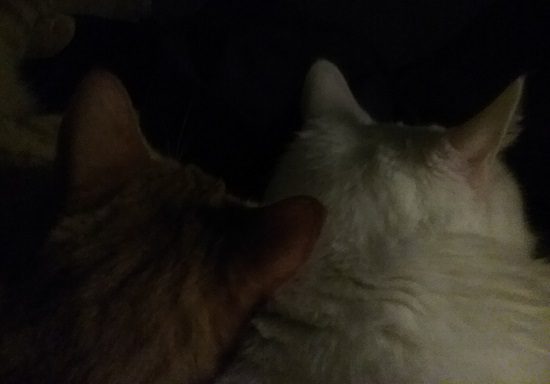 And Miss Princess Bothersome being incredibly cute: