Welcome to a Roll to Disbelieve Super Special! Gosh, where'd the time go? Here we are almost to Easter, that season of renewal and reflection as we cruise into the warmer months — and chocolate. So. Much. CHOCOLATE! So today, I present to you a collection of curated posts from the blog's past to enjoy over the long weekend. I hope you like them!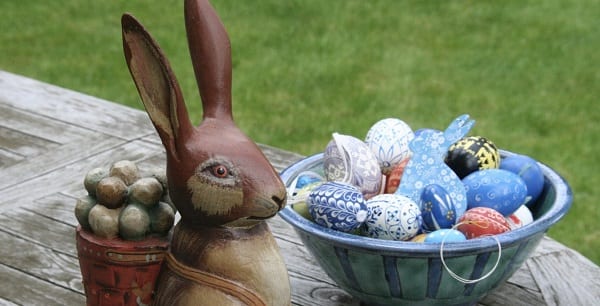 Easter-Themed Posts.
A lot of Christians think that their entire religion hinges on the Easter story being a true one. It doesn't, like at all, like even a little. Heck, it doesn't even hinge on Jesus being literally a real person who really lived and died, much less who was divinely fathered, much less who magically came back to life and floated up and away into the sky amid promises of returning Any Day Now™ for the end of the world. (Plenty of Christians get along just fine without believing that stuff.)
Still, Easter Sunday represents Christianity's biggest holy day. For many Christians, it'll be one of the only times this year you'll actually catch them in a church. Whether you're stuck in one or not that weekend, here are some of our past posts on the topic to explore.
False Promises.
I love seeing the seasons change from winter to spring. I so enjoy seeing all the plants wake up! This time of year, I indulge my cravings for homemade salads and cut fresh fruit. No better time of year for it all. Drink the cup dry! The whole world thrums and sings with promise and hope.
But what I don't have any time for at all is false promises and empty hope. Christianity's way too full of both.
The Christian's Field Guide to Ex-Christians.
Wayyyy back when, I wrote a series aimed at Christians. It gave solid information and advice to Christians who were maybe wondering what many ex-Christians were like and how many of us perceived their evangelism strategies and apologetics hand-waving.
Intended as a sidebar series to the Unequally Yoked Club, the "Field Guide to Ex-Christians" soon took on a life of its own. Here are some of the posts from it (and here's the tag if you want to see all of them).
That's it for this month! Please enjoy these blasts from the past!
NEXT UP: Join me for a Semi-Drunken Review of the 2006 sorta-documentary version of pseudoscience bestseller The Secret!
I'm expecting extra awfulness so I'm laying in a supply of chocolate liqueur for this one if I can. As always, I'm firing off a preview post around 5pm Pacific Time — feel free to join me in the comments for hot takes while I/we watch! Later that night, I'll tidy up the official review and post it. Whew, this promises to be really, really bad. I can't wait! See you Saturday! And have a wonderful and happy weekend! <3
---
Please Support What I Do!
Come join us on Facebook, Tumblr, Pinterest, Twitter, and our forum at rolltodisbelieve.com! (Also Instagram, where I mostly post cat pictures. About 99% of my insta consists of Bother being adorable.)
Also check out our Graceful Atheist podcast interview! It was a blast.
If you like what you see, I gratefully welcome your support. Please consider becoming one of my monthly patrons via Patreon with Roll to Disbelieve for as little as $1/month! My PayPal is captain_cassidy@yahoo.com (that's an underscore in there) for one-time tips. You can also support this blog through my Amazon Affiliate link–and, of course, by liking and sharing my posts on social media! This blog exists because of readers' support, and I appreciate every single bit of it.
This post is an Off-Topic Wonderland! 🙂 What's your favorite treat? Got a recipe for it?
(Mine: Dove Milk Chocolate Bunnies. This weekend, I'm making Mr. Captain his favorite chocolate mint cremes. They're crazy easy. A tablespoon of cream and a cup of powdered sugar, plus a bit more mint extract than you think you'll need. Add powdered sugar if you need to; you want it at the consistency of firm Play-Doh. Shape into logs and chill till firm. Slice into "coins," then slather in melted chocolate if you like. Freeze the completed candies for extra oomph. It doesn't get much easier than this. I don't dye mine but you certainly can add a bit of food coloring if you want.)