Hi and welcome back! Oh my gosh, today's story blew my mind. I loved it. A cat at a sports game found himself in grave peril — and people rallied to rescue him. It reminded me of all the times I've seen people (including myself) go out of our way to get endangered animals to safety. Today, Lord Snow Presides over the many ways that humans try to help our animal friends when we can.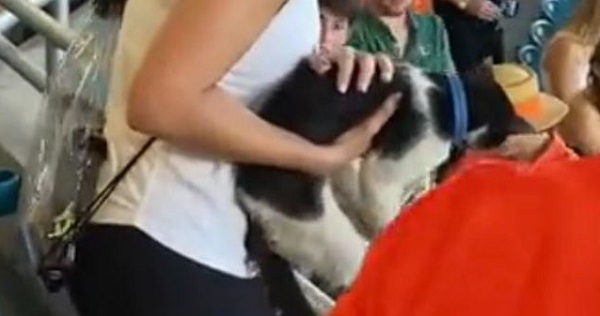 (You know the drill! This week's 1st-Century Friday topic can be found here.)
Hard Rock Cat.
I don't check my Twitter account nearly regularly enough, but I noticed this yesterday under "Trending" — "#HardRockCat." Well, that was an interesting hashtag! So I clicked the main link and got this:
At first, I was like Why are all these people screaming and scared-sounding?
And then slowly, I caught on.
Once I did, I was like OH MY DOG, THAT POOR CAT!!!
For those nervous about clicking the play button, a small tuxedo cat dangles above the crowd's head from the bunting around the top of a huge football arena. The crowd screams as the cat slowly loses his grip. Finally, he falls — but some people have spread out a cloth flag to catch him. He lands on it, and it mostly breaks his fall.
Afterward, one of his rescuers displays him to the wild cheers of the crowd. Of course, the noise just scares him again, but everyone's completely relieved and thrilled.
And that, friends, is how one small cat completely upstages a college football game.
Background and What Happened Next to the Cat.
The hashtag itself, of course, contains a lot more videos and pictures from different vantage points. Here's another video from another user, @MarvelSabrina.
The sound on this one is way more annoying, with someone screaming nonstop during it, but this user really captures the fearful and frantic feelings in the spectators.
According to this Miami news story, the cat is called Hard Rock Cat because this incident occurred in Miami Garden's Hard Rock Stadium. As for the flag, it was brought to the game by a pair of fans. Once the cat hit the flag, he ended up in the student section, where someone grabbed him to display to the crowd in triumph.
Interestingly, some people noted that in good pictures of the incident, you can tell the cat has a collar on. So this is not a wild or feral cat. He belongs to someone. But nobody's spoken up about missing a cat.
As for now, his whereabouts are unknown. I see journalists asking about where the cat is now, but nobody seems to know. If his owners are foolish enough to maintain an indoor-outdoor cat in an area with a football stadium, they're at least wise enough to keep mum about that fact.
A Long Tradition of Helping Each Other Out.
I love seeing footage of humans helping animals. I don't care what the animal is. That said, I'm a "cat person." So obviously, I like cat rescues quite a lot. For everything cats do for us, it's nice to see us doing something good for them.
In March, a firefighter rescued a cat from a burning building. (She turned out to be pregnant, so he soon became the proud owner of eight rescued cats.)
Or check out this lovely story about a man rescuing a tiny kitten during a flood in Estonia. He got it adopted out too!
Or more recently, this story about 75 cats and dogs evacuated from Louisiana to Massachusetts before Hurricane Ida's approach. They lived at an animal shelter in Louisiana, originally. Their shelter's staff knew they'd need more room after the hurricane, so they sent these pets forward to another shelter.
It speaks well of our humanity that we want to protect animals' lives. I'm glad we're asking questions about where Hard Rock Cat came from, and I'm glad people did their best to keep him safe as he fell.
Today, Lord Snow Presides over our long tradition of helping animals in need.
NEXT UP: Yesterday was Baptism Sunday for the Southern Baptist Convention (SBC). They're exulting in alllllllll the baptisms they harvested. But I noticed something in the official SBC account of the day, and we'll check it out tomorrow. See you soon!
---
1st-Century Friday Topic:
For 1st-CENTURY FRIDAY: Since last week we talked about why Tacitus isn't really a good source for Christians' historical claims about Jesus, this Friday we'll dig into Josephus. Not just what he wrote, but also what many Christians mistakenly (or falsely) insist he wrote — and what the truth really means here. A few links to get the party rolling:
As always, nobody is required to do anything. I'm just offering a heads-up about what Friday will contain, in case anyone wants to check it out for themselves ahead of time. (Back to the post!)
---
About Lord Snow Presides (LSP)
Lord Snow Presides is our off-topic weekly chat series. Lord Snow was my very sweet white cat. He actually knew quite a bit. Though he's passed on, he now presides over a suggested topic for the day. Of course, please feel free to chime in with anything on your mind: there's no official topic on these days. I'm just starting us off with something, but consider the sky the limit here. We especially welcome pet pictures!
---
Please Support What I Do!
Come join us on Facebook, Tumblr, and Twitter! (Also Instagram, where I mostly post cat pictures, and Pinterest, where I sometimes post vintage recipes from my mom's old recipe box.) Also please check out our Graceful Atheist podcast interview!
If you like what you see, I gratefully welcome your support. Please consider becoming one of my monthly patrons via Patreon with Roll to Disbelieve for as little as $1/month!
My PayPal is captain_cassidy@yahoo.com (that's an underscore in there) for one-time tips. You can also support this blog at no extra cost to yourself by beginning your Amazon shopping trips with my affiliate link. And, of course, please like and share my posts on social media!
This blog exists because of readers' support! I appreciate every single bit of it. Thank you. <3