There's a controversy here in my town of New Paltz that recently went national. It involves the pledge of allegiance, FOX & Friends, hateful threats from "patriotic Americans," and chocolate.
Essentially, someone on the Planning Board here decided she wanted to begin the meetings of the PB with a pledge of allegiance (they hadn't been saying it and hadn't for decades). The vote was 4-3 in favor of keeping things the way they were — no pledge.
Once this got out via FOX, there were personal attacks and threats made on some of the board members — and talk of boycotting New Paltz.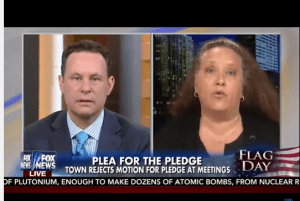 In one article I read, someone suggested there be a 15-second moment of silence instead. "A loyalty oath does not belong in a non-totalitarian government," she told the reporter, offering that the moment of silence could provide an opportunity for people to reflect on how they could serve their community.
I agree with her about the loyalty oath, of course — and am so glad that the vote was 4-3 in favor of not adding the pledge. I also get that it's nice to have unifying rituals to start meetings. I do this with my Psychology classes, actually, in various ways. But, while I like the neutrality of a moment of silence, I can't see it putting folks in the mood to do the work of a planning board! It's just too somber. (Mostly by virtue of association; we tend to associate 'moments of silence'* with loss and mourning.)
But what about something universal and secular? Something that just about anyone could get behind? Something like:
I pledge allegiance to the earth and all the life which it supports. One planet, in our care, irreplaceable, with sustenance and respect for all.
The author of these words has a website where you can buy her poster.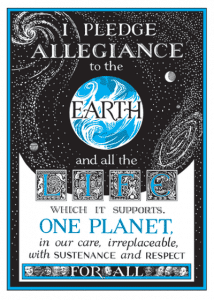 Here's another that I found on, of all things, an Episcopal church's website:
I pledge allegiance to the earth
and to the flora, fauna, and human life that it supports;
one planet, indivisible,
with safe air, water, and soil, economic justice,
equal rights,
and peace for all.
One of the Board members who voted to keep the pledge out of the meetings was interviewed on the radio yesterday morning. I think he's in a tough spot here (as an active, embedded community member) and I'm sympathetic. He said he spoke with local veterans who gave him reasons that made him rethink his vote. He said on air: "I'm still thinking about this issue" and: "I heard some compelling reasons why we should switch (to saying the pledge)." I'd love to hear what these were. Michael, if you're reading this, let me know!
If the Board revisits the question of the pledge, I hope they'll consider something like the above earth-based pledges (I especially like the first one), but I fear they may be too crunchy and tree-hugging for some. To wit: Here's Glenn Beck fake-puking about the poster above.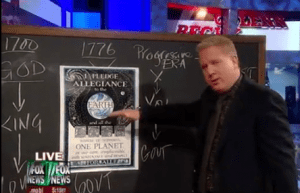 We clearly need something we can all get behind. (See my Call to Unify the Nonreligious essay which makes a similar plea.) Maybe start off meetings with music, since music has a way to unify and coordinate us like little else. As Daniel Levitin explains in The World in Six Songs: How the Musical Brain Created Human Nature: "I believe that synchronous, coordinated song and movement were what created the strongest bonds between early humans, or protohumans, and these allowed for the formation of larger living groups, and eventually as society as we know it."
And then there's chocolate — perhaps the best answer to: "is there something we can all pledge our allegiance to?"! One of the four Planning Board members who voted to remain a pledge-free board is the proprietor of a local, organic, sustainable, vegan chocolate shop. When we New Paltzians learned of the vile, personal attacks and threats to her, there was an outpouring of support for her.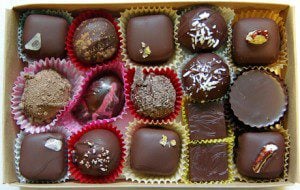 If you'd like to support someone who 'loves this country, but doesn't see any reason to say a pledge to it' and if you like amazing chocolate, check out:
http://www.lagustasluscious.com
Facebook event to support Lagusta

---
*On 'moments of silence': Maybe if we change the language and the 'framing' it could work. We could call it a 'brief time of quiet' or something like it, framing it as a time to quiet ourselves and reflect on the gratitude we feel generally and the good we can do for our community — locally and globally, which includes taking care of the planet.