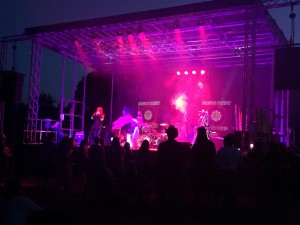 Sometimes the only answer is to hit the road in search of adventure. I found myself offered a unique opportunity, to meet a dear friend at Caldera Fest, the first Pagan music event of it's kind.  He was on tour as part of the road crew and backup guitar for Brian Henke, one of the headliners of this unique gathering, and the invitation to come camp in the VIP area and hang out with the bands was irresistable.  I picked up another long time friend and soul sister named Raven and we sped out of town for a ten hour drive to the Tennessee Valley in northern Georgia.  There is nothing like driving long distances, blasting music, and pouring out your heart to your chosen companions on the open road to clear the head and uplift the spirit.  Even that speeding ticket in Georgia followed by an hour delay of traffic could not abate the absolute determination compelling me to get to that festival.  I needed to be there and we drove all night, arriving just before dawn.
As soon as we got to the festival grounds I knew the event would be epic.  There was this sense in the air that we were participating in something special, and I was amazed at how many people I recognized from all over the country. Plus I was on a personal vision quest, and this hilly, wooded wonderland filled with so much musical talent and love was the medicine I craved.  I have traveled to many Pagan events over the years, and there is a sense of magic in the air of ones that turn out to be the best.  Caldera Fest did not disappoint, in fact this festival was Top Five of the gatherings that have had a transforming experience on my personal growth as a Priestess and Witch.   The staggering amount of musical talent was amazing.  Its impossible to describe a concert where all of the acts are fantastic, and the people in the bands such a delight to meet and interact with.  I missed so many bands that I wanted to see, but I can personally attest to Tuatha Dea bringing down the house.  S.J. Tucker moved my soul. Brian Heinke had multiple headliners onstage singing "Season of the Witch" taking us to church on Sunday.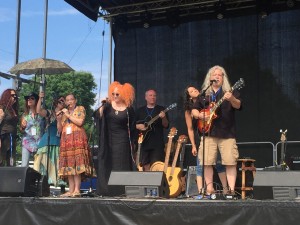 It's hard to pick a favorite, but the one I was most excited to see was Didges Christ Superdrum.  The are local to my own sweet state of Florida, and I was personally excited because I saw them out in Aprika the previous year.  They are so incredible, their show is theatrical and complete with lights, smoke, fire, and dancers.  They make all their own costumes, and many of the instruments.  They are space aliens from the future come to communicate their messages to awaken us to our inner potential through subversive sound.  I love this band! The beats are killer and the whole production is pure art. We are not Alone. Highly recommend that you check them out at your earliest convenience.
I had several strange experiences of people coming out of the woodwork to pass on some affirming and some constructive messages.  My friends healed me with energy work.  One older lady stopped by with her husband and gave me a message from her Deity and a blessing.  Consequently I was instructed that I needed to wear a crown and a pretty frock at once to remind myself of my Sovereignty as well as others.  She blessed me with Wings, and as I felt them settle on my back with an electric tingle, she said "There you are."  I felt lighter, and freed from my stress and burdens.  I went out and bought a dancing skirt and the first crown that fit my head and budget, and wore the horns for the rest of the day. When a Grandmother lays the whammy on you, its a good idea to follow that advice.  Once I placed the crown on my head the entire energy around me changed.  I stood straighter and felt completely new. At some point I got stung by something over my right eye (or possibly Elf-shot?) which was less exciting but manageable.  People spoke to me and truly reached out with love and support, and I was refreshed by the connection with my community.  At the fire circle at the top of the hill I found another soul-sister, Cadea, who I have known forever on my local scene.  She, Raven, and I danced around the fire together, as we did so long ago for the first time fifteen years ago.  A sense of sacred satisfaction descends when a hot beat and strong dancers synch up and create our own ritual.  This is why I love being Pagan.  Getting sweaty with beautiful women.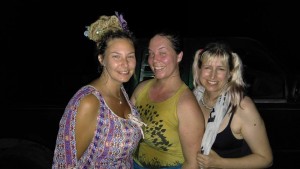 The food trucks and vending were excellent, the VIP area clean and well stocked.  Everyone there was having a fantastic time.  I got lost in the woods trying to find the shortcut from the stage back to our camp, and wandered in the trees wearing the horned crown. It seemed as if time slowed down a bit and there was a haze just visible out of the corner of my eye. I got another message of reassurance, and the Trees whispered that everything I needed would come to me.  I matched my energy to the vibration surrounding me and fell into a bit of the Green Dream.  I came back very thoughtful and several people commented that my aura had expanded.  Caldera Fest 2016 created this intentional community dedicated to music and magic and strange and wonderful things happened as a result.  I drank all of this up like nourishing milk, happy and contented as a babe in my mother's arms.  We gathered. We sang. We danced, made music and love all in Her name. I was renewed in my spirit, which had suffered much wounding from recent events.  My tribe had gathered to celebrate and hold each other up as we reveled in the Summer heat. We parted in excellent condition, planning the next adventure on the long drive home.  If you can snag a ticket to the next one, do it!