It is difficult to formulate something coherent in regards to the Orlando tragedy.  So many murdered, so many families shattered and grieving.  There is a dark and heavy energy across the state, as residents mourn the lives and light of so many blown out in a single night.  The Internet abounds with shock and anger that ripple out as folks attempt to process these events, and give voice to fears and sympathy from friends and allies.  In Tampa, as well as the rest of the state, flags are flying at half mast.  For some reason I find it comforting to see the flag down, as a sign of unity in grieving the senseless destruction of so many innocent people.
According to Google Maps, Pulse nightclub is 87.3 miles (140.5 km) from my home, roughly one hour and twenty minutes by car.  I was at home last weekend, but the week before I had been out clubbing with my friends in St Pete, the opposite direction from Orlando, on the Gulf of Mexico.  We went to a gay club called Flamingo, which was having some kind of Leather gathering that we stumbled upon.  When I heard of what happened at Pulse, the first thought I had was an image of chatting with my friends the week before, laughing as we examined a toy I had purchased from a local vendor.  I thought of the men I had seen smiling, stroking each other's beards as they whispered and embraced.  Couples of every combination strolling around arm in arm, folks who had come to dance and be seen, the crowd I was drinking with. The people in Orlando had gathered to do much the same.  To laugh, to dance, to love, to be visible and enjoy life.  It is sobering to realize how vulnerable we all are to random acts of violence, and to witness the power of hatred.
The personal story of the killer becomes more convoluted by the day. The Internet is on fire with political accusations and the fear mongering is in full swing while a community buries its dead.  I wish I could say something inspiring or comforting, but nothing comes to mind.  There is a hole in the heart of the state, and the silence of so many lives lost is deafening.  May the Mother gather them all in comfort and peace.  May they find their way home.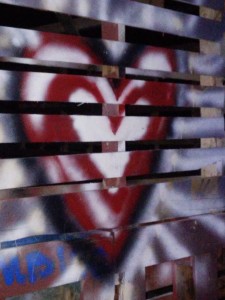 For the rest of us, we will have to muddle through as we hold space and process.  For myself, I am going to Pride in St. Pete next week, still hoping that we will find a way to have fun and laugh despite the fact that a thousand tears will be shed for the fallen.  It's important to remember in these dark times that love can never be extinguished, that love never dies.  We will meet and assemble.  We will love in the light.  Love conquers hate.  Just love.