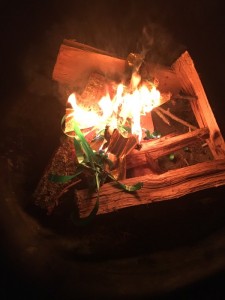 The wheel turns, and the longest night of the year begins. 2016 has been a challenge on many levels, but the warmth of family and friends is a balm to the troubled spirit. This year we held our gathering a bit early. I found an oak branch on the side of the road. A friend helped to saw and shape it, and we had fun using power tools inside. We decorated our Yule log with wishes and blessings we desire to manifest in the coming year. Things we wish to release or banish were recorded on separate papers, to later be consumed by the fire. At the end of the day, it all is fuel for the future. The kids (and adults) had fun coloring festive images of the season, relaxing and singing songs that brighten our hearts and recalled events from years gone by.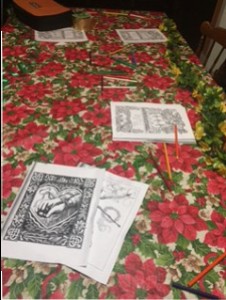 This solstice is marked with somber notes. My grandfather passed away on Monday, and I am reflective. He was not a fan of my religion. This was a sore point and a source of major contention for many years. Love eventually won out, and we were on good terms for the better part of this past decade. He slipped away, peacefully, one day before my birthday, two days before Yule. This seems fitting in a way, as the solstices are always times of transitions. In the summer, the day shifts into night, and now the long night gives birth to the dawn. He joins my grandmother, in whatever Heaven they prefer, united after just a few short years apart.
This season gifts me a metaphor on the nature of love. I think about its ebb and flow. Our altar is graced with an image of the Mother, waiting for the light to be reborn from the darkness. She teaches the struggle of surrender. Patience is the lesson. We let go of what is useless, and strive to be still and witness what the new year brings forth. I pray for health and happiness for those I love. Those who wander, for those who have yet to appear. We hold hands and begin the vigil. In the darkness, there is light. In the silence, there is a song. Strife, peace, fear, and laughter blend together to create a harmony howled into the night. Blessings on those who remember these things. In this holographic universe we are all together, and we can sing.