Update: for anyone who'd like to read my male friend's personal thoughts on this issue, check out today's guest post: "Conquering with kindness!"
I am not a fan of gender roles, as anyone who's been reading my blog lately knows. As a women, I am constantly presented with expectations that I either cannot, or do not wish to live up to.
But gender roles are bad for men too.
A few weeks ago, I had a discussion with a male friend of mine (who gave me permission to anonymously write about him) about our spiritual gifts and how to put them to good use.
My friend, frustrated, admitted to me, "I feel like I have the wrong spiritual gift."
His spiritual gift is kindness.
And we live in a world where kindness is not manly.
Men are supposed to be rough and tough. Men are supposed to get into fights and  conquer things. This is a prevailing attitude, both in society and in church.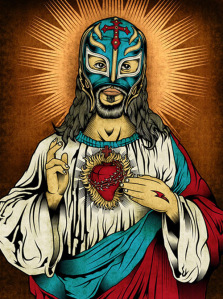 Famous church pastors encourage us to follow a "prize fighter" Jesus who is looking for bad-ass, testosterone-driven disciples. Men are told to "step up" and be leaders. To be powerful and forceful. Men in egalitarian marriages are thought of as "whipped," or even emasculated. They are told that "nice guys" finish last.
Kindness is the wrong spiritual gift for a man.
"Real" men have the spiritual gift of leadership.
Now, let me be clear: all of us, at some point or another in our lives are going to have to "step up" and be leaders for some reason. I am not saying that it's okay for any of us to shirk those responsibilities. I am also not saying that you must be forceful, or "hyper-masculine"  to be a leader (that's just a silly concept that, unfortunately, some influential preachers hold to now-a-days).
But the church should be the first to recognize the power of kindness. Instead, we tend to view it as a weak, feminine trait (I won't even get into how degrading that is to women).
It is incorrect to assume that kindness = weakness…
…that men who aren't natural-born leaders are immature…
…that men who aren't powerful and dominating are effeminate….
…that nice guys finish last…
My friend has now come to realize that he has exactly the spiritual gift that God wants him to have. When we talked today, he told me that he has realized that "kindness is not a sign of weakness, but it's a sign of strength, self-confidence and security."
God doesn't give people the wrong spiritual gifts. And there are no spiritual gifts that are more important (or more masculine) than others.
Christ is the great equalizer. We are all one in him.
What about you, readers? Have you ever wished for a different spiritual gift? Have you ever been unsatisfied with the abilities that God gave you?