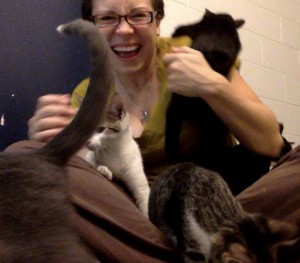 Sarah Moon was raised in fundamentalist Christianity for the first 20 years of her life, during which she survived an abusive relationship, experienced a couple of cult-like church settings, and won a few Bible Quizzing matches.
Sarah now considers herself to be a universalist Christian, and attends a United Methodist Church in Toledo, Ohio. She is interested in queer, feminist/womanist, and liberation theologies, and hopes to attend seminary soon to study them further.
She graduated with a degree in Women's and Gender Studies in 2013, and her undergraduate capstone–"You Are Not Your Own: Rape, Sexual Assault, and Consent in Evangelical Christian Dating Books"–is set to be published in the Journal of Integrated Social Sciences later this year.  She has interned with Alternatives for Girls in Detroit, and is currently temporarily employed as a canvasser for URGE (formally Choice USA).
Sarah married Abraham Kobylanski (of Asian and Entertained) in 2013. They live in Bowling Green, Ohio with their two cats: Pickle and Meryl.
Sarah's work can be found in the books Not Afraid (edited by Alise Chaffins) and What A Woman Is Worth (edited by Tamara Lunardo). She has also written guest posts for authors Rachel Held Evans and Dianna Anderson.
Follow her on Twitter at @SarahNMoon, and like her Facebook page: Sarah Over The Moon.