The following is an exchange between Sarah the Thinker and Sarah the Feeler. Feeler parts are in parenthesis because I often attempt to skip over them as though they don't matter as much. (But they do)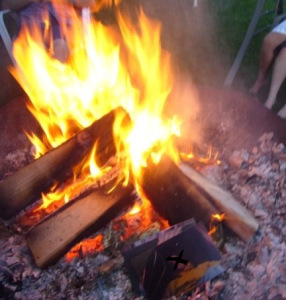 I haven't seen much of my abusive ex-boyfriend since we broke up. He didn't stalk me or beg me to come back to him. He got over me faster than I got over him and he moved on and forgot I existed. So I shouldn't be afraid of him.
(But I am)
I saw him for the first time since the big breakup about two years ago. He came to my cousin's funeral. The two of them were friends, so I wasn't surprised he showed up. I don't think he saw me. Nothing happened.
(I went in the bathroom and cried until I almost threw up)
Then I didn't see him again until this past summer. I'm friends with his sister and we were hanging out. She stopped by her mom's house to get something and he was there, sitting on the couch. Polishing a gun.
People have guns, you know. No big deal. He'd never use it on a person. Especially not me. I'm sure he has no hard feelings.
(Except he threatened to kill you before)
Well, maybe he did threaten to kill me once when we were dating. I think he was joking though.
(I know he wasn't)
He would never actually do something like that.
(He would)
So I'm not afraid. No big deal.
(I am terrified)
Anyways, I'm still friends with some people in his family, especially his sisters. Sometimes they tell me what he's up to, as if I care.
(I care)
I hear he's engaged, and that his fiance is a really nice girl.
(He doesn't deserved to be loved by a really nice girl)
And they say that she's tough enough to keep him in line.
(What does that say about me?)
(Was it my fault what happened because I wasn't strong enough to handle him?)
Good for her.
(There are so many things I wish I could tell her…)
I'm glad he's happy and I hope he has a good life.
(I hate that he's happy and I hope he gets hit by an ice-cream truck)
(And I wished he still loved me. I don't know why but god, I wish he still loved me)