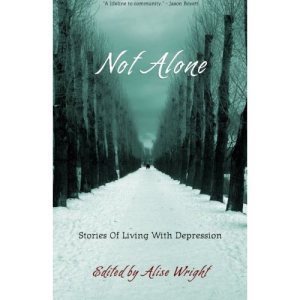 Those might be the most comforting words in the English language.
But when you suffer from depression, they are sometimes very hard to believe. The book Not Alone: Stories of Living with Depression, edited by Alise Write, takes those words and brings them to life–makes them real and powerful.
Not Alone is a collection of 37 true stories submitted by 37 different contributors. The contributors share their personal stories of their struggles with depression, and they don't hold back.
They don't give depression the advantage of taboo and secrecy. They realize that depression is a vampire (no, not the sparkly kind. Read Dracula or Salem's Lot after you read Not Alone. Promoting two book within a book review of a different book? That's skill). It is powerful and even deadly in the dark, slowing sucking away life of its victims.
But when you drag depression into the light, its power diminishes.
I was able to see bits and pieces of Me in each story. I was able to recognize my own vampires and I found the courage in this book to start stocking up on metaphorical holy water squirt guns (a.k.a. I finally was able to share my own struggles and I am finally making a doctor's appointment for next week to talk about my depression).
Not only does this book drag a taboo issue into the light, it also explores depression from multiple angles. I've read books on depression where one author tells the world what depression is like, based on his/her experiences.
This is not that book.
Not Alone recognizes that depression manifests itself differently for everyone and so this book shares the platform. Each story is unique. Different types and causes of depression are discussed. Each contributor reacted and recovered in different ways. So, while I was constantly reminded that I was not alone, I was also reminded that I was not the same.
That was freeing.
If you, like me, are currently living with depression and feel like no one would understand, I highly recommend this book. It gave me hope. It gave me a sense of community. It gave me the freedom and courage to seek help.
If you are not like me, and you have never had to deal with depression, I still highly recommend this book. As 10%-25% of women and 5%-12% of men will suffer from depression in their lifetimes, chances are you're going to meet someone who has it. That someone might be a loved one. The stories in this book debunk some of the common misconceptions surrounding depression. They will help you understand what those who have it are actually going through and how you can help.
In short, the world needs this book.
Don't let depression lurk around in the dark.
Drag it out into the light.
Read Not Alone.
Not Alone: Stories of Living with Depression has been a great source of comfort and courage for me this week. I hope you'll take the time to read it yourself. You can order it on Amazon.com.