This morning, I counted how many days it's been since I last wrote something.
Six days.
Six long days where I was unable to write.
At first, I wondered if I've had writer's block. But, no. I've had so many ideas for blog posts lately that my brain can hardly juggle them all. No, writer's block isn't the problem.
The problem is that I started giving a damn.
Like most people, I spent the majority of my life giving a damn what people thought about me. I wanted to be liked. I wanted to be accepted. I wanted people to believe that I had social skills (however untrue that may be).
Then, right before my senior year of high school, I broke off an abusive relationship and sunk into a deep depression. I made stupid mistakes during this time in my life and that got people talking about me. My ex told his friends and family lies and secrets about me, which earned me a few enemies. Rumors spread that I was "loose," which meant dirty looks from some folks, awkward personal questions from concerned others, and even blatant requests for sex from one person.
My reputation (which was mostly undeserved–I'm not really as badass as people thought I was) and my depression  knocked me down to rock bottom and when I got there, I figured I had two options: grab a shovel and start diggin', or stop giving a damn.
I chose the latter.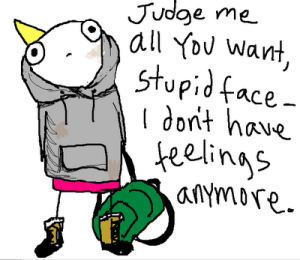 Uninhabited by my fear of what others would think about me, I was able to share my stories. I was able to ask difficult questions. I was able to be honest about myself and who I was because I no longer had anything to lose.
And you know what happened?
My not-giving-a-damn about my reputation started helping people.
And my not-giving-a-damn about my reputation helped me find healing.
Eventually, in the spirit of not-giving-a-damn, I started this blog.
Lately, however, I've been taking steps to cure my depression and I'm on medicine that diminishes the symptoms. That's a good thing, but now it's tempting to start giving a damn again.
It's tempting to worry more about my reputation than about helping others.
It's tempting to think twice (or three times, or four…) before asking a controversial question.
It's tempting to avoid my the publish button on my blog.
I'm thrilled to be getting the upper hand of my depression. I hate depression. I hate it so much that if it were a vegetable, I would hide it in my napkin and feed it to the dog when my parents weren't looking.
But depression taught me something.
But I hope I never forget what it taught me–that sometimes, if you want to make a difference, you have to stop giving a damn about what people are going to think of you.
As one commenter has already pointed out, giving a damn isn't always bad! So, tomorrow, I'm going to talk about how you should start giving a damn. Until then, what stories would you tell and what questions would you ask if you didn't give a damn about your bad reputation?