TRIGGER WARNING: Rape
(thanks to Ryan Stauffer for bringing this to my attention)
Recently, The Good Men Project–who think of themselves as "a glimpse of what enlightened masculinity might look like in the 21st century"–tweeted a story that I blame for the fact that I skipped lunch today. It literally made me lose my appetite.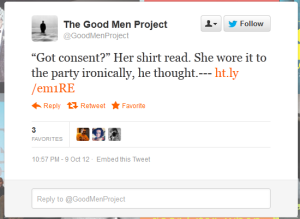 I've had problems with The Good Men Project in the past (this post by Amy Mitchell lays out just of few of my reasons why). But the misogynist post I read today went above and beyond the awful things that I've seen on the site in the past.
The story they posted, which was quietly deleted (but not before it was shared over 8,000 times on Reddit), can be found on Google cache here.  I don't suggest reading it unless you don't believe me, but if you do, let me warn you, it's awful. Dianna Anderson describes the piece at her blog:
"A lurid, pornographic depiction of a drunk teenager (barely legal!) giving a 26 year old man a blowjob and (forgive the graphic description) gagging and crying while she does so. Only after the rapist 'finishes' do the cops show up – they arrest him, but the story makes it clear that they only arrested him to give the appearance of justice. His dad is one of the cops, and says, "That's how I met ya mother!"
The Good Men Project
apologized quietly
, after receiving criticism. They have not explained how such a piece was able to be published on the site, nor have they said whether or not the piece's author will be able to publish future pieces. Also,
as Dianna Anderson asks
, "
And what sort of environment is Good Men Project creating where he would possibly think this is an appropriate thing to post?"
The piece also contains the following line:
Consent is overrated. I feel it's like society's way of removing the spontaneity of intimacy. Arguably, the best kind of human interaction… I mean, was Prince Charming ever given consent? You know? Did Sleeping Beauty ever verbally give consent? Of course not. The Prince simply knew what had to be done, and he seized the moment. And that's the most celebrated part of that story. I know it. You know it. And you can bet your sweet, juicy ass that Walt Disney knew it too.
This Good Men Project writer, or at least the character he wrote (and allowed to get away with rape), believes that consent is overrated.
Is that kind of thinking limited to men who write vile rape porn?
I'm going to guess not.
I will say this. Men who write and read and share stories like this are not Good Men. Men who believe consent is overrated are not Good Men. Men who look at unconscious women and see an opportunity to "seize the moment" without concern for that women's feelings are not Good Men.
The Good Men Project needs higher standards.