[I wrote recently about learning to love my body for Lent. Part of that loving so far has involved some deep contemplation about where the fear and hatred come from. And I've realized something.
Part of my body hatred, and by extension part of my self hatred, comes from the fact that oppressive people have used my female body to justifying oppressing me.
I hate my body and myself because, deep down, I blame my body (and thus myself) for the ways in which I've been hurt by others.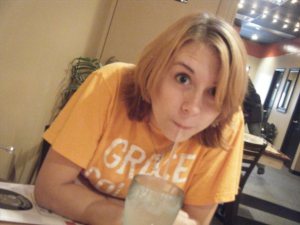 Two examples stick out clearly in my mind. Both from experiences at my former Christian school, Grace College.
It was the first week of my freshman year. We had a meeting for everyone in our all-women dorm to go over the basic rules. Don't burn popcorn and set off the smoke alarm. Be in before curfew. No sex, drugs, or rock and roll (okay, maybe rock and roll was okay. Just not during quiet hours!).
During this meeting, the husband of our Residence Director came in to talk to us ladies about, you guessed it!
Modesty.
He started out by telling us to never let any Christian man blame us for their sins. Then he proceed to…well, blame us for his sins.
He told us of his own porn addiction and of the porn addictions that other men on campus have talked to them about. He was blunt, and even made subconscious hand motions while talking about masturbation.
And what was his point?
"When you wear those tight jeans, your brothers in Christ go home and masturbate to you. Your selfish clothing choices make it hard for your brothers in Christ to break their addictions. Thanks to God's grace, it's been weeks since I've looked at porn, but it hasn't been months. And the way women on this campus dress doesn't help."
I talked to many women who were present in that meeting who expressed that they left feeling ashamed and dirty. I know that every time I passed that man on campus from that day on, I wanted to turn invisible. I'd tug my skirt down and pull my jacket over my chest, and I'd resist the urge to get sick to my stomach thinking about him masturbating to me, and it being my fault.
My body was shameful. It was dirty. It could ruin lives and marriages just by existing.
This is the first thing I learned about my body at Grace College.
It was the second semester of my freshman year. We were required to attend chapel three times a week, so there I was. This week we were learning about relationships between men and women, how they were often broken in this world, and how we could fix them.
We did this by learning our roles.
And we could learn our roles, not just from Scripture, but from our bodies.
The speaker told the Biblical story of King Joash (and I'm still to this day not sure why). "Joash drilled a hole into the box," he said. "Joash femaled the box."
According to this man and his strange desire to associate being female with having a hole drilled into you, the reason men and women can't get along is because men and women (mostly women) are rebelling against the nature revealed to us by our bodies.
"Men are supposed to give the life-bearing seed of the gospel to all the world," he said, while making disturbing hand motions from his crotch to the audience. "Women are supposed to receive that seed."
The moral was that female people were trying too hard to give when they were made to receive and weren't letting male people to what they were meant to do (which is apparently to spiritually ejaculate on everyone).
Female bodies were not built to give life (apparently child birth doesn't count and we're just the incubators) but to be fulfilled in receiving life.
It wasn't patriarchy holding me back, according to this man. It was my body. This is why I could not be a pastor, or a spiritual leader in my family. This is why I could not speak my mind too loudly or be too bold. Because I had a vagina, and vaginas are not for giving.
But I fell for it for years and years. I saw myself as stuck in this body with its sinful breasts and its useless vagina.
I saw my body as a prison.
And in seeing my body as a prison, I blamed myself.
Oppression is tied to bodies. It often happens in bodies and to bodies. It often comes from other bodies. And oppressive people use the bodies of the oppressed to excuse it.
Loving my body for Lent means recognizing that it is not my body's fault when I am treated as "less than." Loving my body means recognizing that others have used it to tell me I am "less than." Loving my body means recognizing that those people were lying to me about my body.
Loving my body means affirming that they don't decide what my body means. They don't decide what I mean.
[Note: Though I learned some harmful things at Grace College, it was also at Grace College where I began the process of loving my body. That may be a post for another day]