Review of Far from the Madding Crowd, Directed by Thomas Vinterberg
Director Thomas Vinterberg's effort marks the fourth time Thomas Hardy's pastoral novel has been adapted to film, and it's not hard to see why. The story is slow but magnificently rewarding, reflecting the title, which is both idealistic and ironic. On the one hand, both Hardy's novel and the film capture the idyllic setting of pastoral England, blissfully removed from the dirtying throes of the industrial revolution – the "madding crowd," if you will. We see deliberate shots of all manner of gorgeous flora and fauna – ripening apples and colorful snails, hay dust dancing in the golden rays of the setting sun, sheep grazing in green pastures near still waters. They serve no purpose to advancing the story other than simply creating a setting to surround the desperate antics of love with an Eden of harvest, nature, and vitality.
I don't often descend to gushing over leading-woman crushes, but in this case it is appropriate because the thing the film gets the most right is its principal female character – Bathsheba Everdene (played wonderfully by Carey Mulligan). Just as Mulligan lived up to F. Scott Fitzgerald's opening description of Daisy in Baz Luhrmann's film adaptation of The Great Gatsby, she brings Bathsheba to the silver screen with just the right blend of natural beauty, English propriety, flirtatiousness, moxie, and inscrutable feminine emotion. Indeed, the sentiments she embodies as an actress to capture the allure of Daisy and Bathsheba are not all that different, even though the characters are.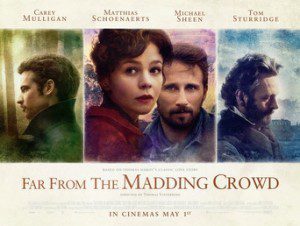 Admittedly, as a single young man, I am biased in my evaluation, but doesn't that reinforce and fulfill the point of telling the story? Gabriel Oak, Farmer Boldwood, and Sergeant Troy all fall utterly smitten before Bathsheba in just a matter of moments, and as a viewer, well, let's just say that that is indeed all it takes. Mulligan manages to portray that rare type of woman that a man feels like he really can fall in love with and cherish for the rest of his days – and all it takes for him to decide that is just a brief sight of her. In falling for Bathsheba along with Oak, Boldwood, and Troy, I found myself more thoroughly invested in the story because it moved me from the place of a passive critic to identify with the love-struck.
Though it takes care to stick to the source material more faithfully than most book-to-film adaptations, the film makes a few small but noteworthy modernizing adjustments from the original story. The first two marriage proposals to Bathsheba from Gabriel and Mr. Boldwood, for example, feel comedic to the modern viewer in their abruptness, and they caused everyone in the theater to laugh. Upon reading the novel, however, they hardly seem out of place (perhaps this is a lesson in the effectiveness of books versus film in taking us into a particular historical context). On this point, the book succeeds far better than the film.
(SPOILER) We also see this at the very end of the film when Gabriel and Bathsheba finally get together. It draws from the scene in the book where Bathsheba says Gabriel will never find out if she could be in love with him because he never asks. "Ask me Gabriel," she says, and after a moment, without saying a word, he passionately kisses her. This goes against the grain of Gabriel's upstanding character as he is portrayed in the novel, but it makes for a great Hollywood ending – an understandable, if undesirable concession.
Hardy's Far from the Madding Crowd may be assigned to the increasingly dusty pile of great literature haunted principally by English majors and Anglophiles, but like its more popular contemporary love stories (read: Jane Austen), there's something eminently relatable about it. Today we may be less scandalized by a man and woman spending time alone and less quick to propose marriage (if we decide to get married at all), but though our sensibilities have changed, the exhilarating, mysterious tension between the sexes endures. If the film can rekindle some of our appreciation for a nuanced drama on the absurdities of love; if it can show us just a bit of ourselves in Troy's manic selfishness, Boldwood's idolatrous infatuation, and Gabriel's unflagging devotion; if it can give us just a taste of the superior pleasures of investing in the slow emotional buildup of a 400-page novel, then it is a most welcome reinterpretation.