Review of Kahlil Gibran's The Prophet, Directed by Roger Allers
Many consider Kahlil Gibran's The Prophet a profound literary work, but the animated film adaptation of Gibran's book traffics in easy laughs aimed at the younger set. Whether it's a guard hitting his head on a window frame, an older character cracking wise after a bird eats a wedding cake or a sheep upending a stern character, Kahlil Gibran's The Prophet (that's the full title of the film) is clearly trying to achieve a delicate balance between kid-friendly humor and meaningful insight into the purpose and joy of human existence. The result is an uneasy, unbalanced film—not altogether disappointing, but only intermittently involving in the way an adaptation of what many consider a religious classic should be.
In order to give Gibran's writings narrative shape, the story written by Allers as well as Hanna Web and Douglas Wood, introduces a young girl, Almitra (the voice of Quvenzhane Wallis), who hasn't spoken since her father's death.
She's a thorn in the side of her mother, Kamila (Salma Hayek), who spends her days keeping house for Mustafa (Liam Neeson), a poet and artist who has been under house arrest for seven years. The local authorities trumpet a planned release of Mustafa—beloved by the local population—but secretly plot the poet's demise once the he's out of the public eye.
Imminent death is a heavy load to bear for any narrative, especially one aiming to draw in young viewers, so the screenwriters have attempted to lighten the proceedings with the aforementioned attempts at humor, as well as with a little romance in the form of a guard's (John Krasinski) swooning affection for Kamila.
But that's all window dressing for the film's main focus: several long passages given over to Mustafa reciting Gibran's poetry. These sequences will strike some as trite while others will glean wisdom from them in whole or in part. But although Mustafa's monologues include some overlap with Christian ideals, they also extol a type of belief that seems designed not to offend, or, at its worst, is treacly and trite.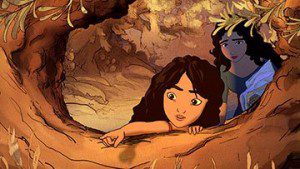 But the substance of Mustafa's/Gibran's recitations is not the film's main problem, whatever one thinks of its deviations from orthodox Christianity. This Christian film critic has seen his share of captivating movies about other belief systems. Spike Lee's Malcolm X is one of the filmmaker's best movies—both insightful and wonderfully performed across the board by its outstanding cast. Even Bernardo Bertolucci's Little Buddha, maligned by some critics and viewers because of the leaden lead performance from Keanu Reeves, has, in my experience, a childlike wonder in its storytelling that appeals to different age groups.
Kahlil Gibran's The Prophet is less successful than those efforts, likely because it had too many cooks in its creative kitchen. Directed by Roger Allers, who worked on Disney's Beauty and the Beast, Aladdin and The Lion King, the film credits numerous additional directors who oversaw each of the film's different segments. While first-rate animators like Tomm Moore (The Secret of Kells, Song of the Sea), Bill Plympton (Plymptoons) and Nina Paley (Sita Sings the Blues) have infused the film with distinctive styles, the different looks throughout the film give the story a hodgepodge quality rather than the immersive experience a better film would have provided.
That's not to say some of the episodes aren't beautiful or even enthralling and worthy of praise. Yet despite the obvious artistry on display, the project simply doesn't cohere. It feels disjointed where it needs to feel seamless, and episodic rather than unified.
Perhaps the best outlet for Kahlil Gibran's The Prophet is DVD, where you can skip to the lushly animated segments (and turn off the sound if you find Mustafa's monologues more eye roll inducing than edifying) and pass right over the Dreamworks-style lowbrow humor of the wraparound story. But if you choose to see the film—especially if you see it with children—be prepared for mixed reactions from young and old viewers alike. The film's appeal, as well as its limitations, likely will be defined differently for different age groups—but whether anyone, young or old, will be eager to see the entire film again (rather than select segments) is up for debate.