20. Crimson Peak
See it for the production design, the gothic mood or just because you miss the atmospheric horror films of an earlier era. I can't say the film is deeply meaningful, but it sure was a pleasure to watch. Director Guillermo del Toro has made one like they used to make 'em.
19. Mustang
Another great religious drama, this one about a group of sisters facing a series of quick marriages after they cause a mini-scandal in their community. Director Deniz Gamze Erguven brings an energy to her visual approach that matches the intensity of the sisters' roiling emotions, while liberal doses of humor keep the film from becoming a sermon.
18. Mad Max: Fury Road
Director George Miller updates his best-known franchise with a genre-redefining work that has more verve and better execution than action films from directors half his age. Tom Hardy takes over for Mel Gibson in the title role, but it's Charlize Theron as a feminist action hero who makes the movie more than a series of wildly impressive set pieces.
17. About Elly
Another fascinating moral drama from Iran's Asgar Farhadi, whose previous A Separation (2011) and The Past (2013) were among those years' best films. About Elly, filmed in 2009 but released only this year in the United States, confirms his talents. The less you know about it going in, the better.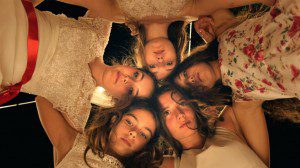 16. It Follows
The year's most effective horror film has a simple premise that ensures a lifetime of inferior sequels and knockoffs. Enjoy this one while you can, before its reputation is sullied by the weaker entries to come.
15. Pan
Widely hated, Pan remains one of my cherished filmgoing experiences of the year. Director Joe Wright's 3D imagery, which others found bloated, dazzled me (yes, you read that correctly: I was dazzled), and the origin story of the boy who could fly—I'd never much cared for the non-origin story as a child—made Peter Pan come alive for me for the first time. How could I feel anything less than love for a film that managed that feat?
14. Timbuktu
From my Patheos review: "The story's context is Muslim culture, but application can be made to other forms of strict, letter-of-the-law obedience that delight in pointing out the sins of others while overlooking the sin within."
13. Love & Mercy
If there's been a better film about the assembling of music and sound for a studio recording, I haven't seen it. Brian Wilson's sad but triumphant story is brought to life through excellent dual performances by Paul Dano as the young, in his prime Wilson and John Cusack as the older, broken down Wilson. Elizabeth Banks is his earthly savior, the music his eternal gift.
12. Kumiko the Treasure Hunter
Part Fargo, part foreign film, and altogether its own thing, this bizarre but moving look at a woman on a mission in her own mind is a showcase for star Rinko Kikuchi. The film flirts with becoming an outright comedy, but wisely never allows us to laugh off its main character's possibly troubled state.
11. Paddington
The best family movie of the year is a charmer about a bear from Peru adopted by a group of Brits. The kid-friendly humor has adult appeal as well, while the zany, villainous performances from Peter Capaldi and Nicole Kidman can best be appreciated by older viewers. The film works as a story about finding a place—and people—to call home, but it also about teaches the acceptance of differences without ever feeling preachy.
10. Phoenix
A gorgeous, dreamlike tale from director Christian Petzold (Barbara) follows a concentration-camp survivor (Nina Hoss) who, after facial reconstruction, tries to determine her husband's role in her wartime fate. An Expressionistic first act settles into a more standard mystery, but the story builds to an unforgettable final scene.
9. Time Out of Mind
Touted for Richard Gere's lead performance as a homeless man, Time Out of Mind came and went quietly during a far too brief theatrical run. That's a shame, for while the subject matter might sound like fodder for a tiresome diatribe or guilt-inducing "issues" film, Time Out of Mind is, instead, one of the year's most fascinating films to watch, as its extended shots challenge viewers to take in activity throughout the widescreen frame. Reflections, doorways and shifting aural landscapes provide extra dimension to the unfolding story, making for one of the richer movie-watching experiences of 2015.
8. Winter Sleep
The winner of the 2014 Palme d'Or at Cannes, Nuri Bilge Ceylan's revealing look at a troubled marriage didn't open in Washington, D.C., until 2015. From my Patheos review (http://www.patheos.com/blogs/schaeffersghost/2015/01/moral-discussions-engage-in-winter-sleep/): "It's the film's discussion of repentance and forgiveness that lingers after the cutting comments and eloquent airing of grievances in Winter Sleep. 'A soft answer turns away wrath, but a harsh word stirs up anger,' Proverbs tells us (15:1). The words in Winter Sleep are often harsh, rarely soft, but the emotions are universal. As a cinematic experience, however, it's an all too rare master work, not to mention a reminder of how natural wonder and moral drama are more than enough to justify and sustain a lengthy running time. What more could a viewer desire?"
7. Slow West
Each year brings fresh evidence that the Western is alive and well, if not always exemplified by big-studio attempts at such. This ambling, gorgeous film (shot by Philomena's director of photography, Robbie Ryan) is appropriately somber but never less than engaging, thanks not only to its vistas but to strong performances in key roles from Michael Fassbender and Kodi Smit-McPhee.
6. The Diary of a Teenage Girl
Sometimes a film takes you so by surprise that you vow to watch it again before finalizing your thoughts. I still haven't gotten around to a second viewing of Diary, but to leave it off my list would be dishonest. I had expected to squirm through the story of a young teen engaging in an affair with her mom's adult boyfriend—a similar storyline to Andrea Arnold's acclaimed Fish Tank, which I hadn't cared for back in 2009. But in the hands of director Marielle Heller, the content, adapted from a Phoebe Gloeckner graphic novel, was more open to interpretation than I'd anticipated. Is this a nonjudgmental treatment of a 15-year-old's sexual awakening? Yes. Does that make it an endorsement of such? I'm not so sure, especially given the disapproving reaction to the discovery of the relationship by the protagonist's mother (Kristen Wiig). The main character's voice, as presented through diary entries, shouldn't work—voiceovers rarely do in films—but in combination with flourishes of animation, the overall presentation is arresting and engaging.
5. Anomalisa
Like the film in my #6 slot, this is a film where presentation makes the queasy moral content less troubling than it might be in the hands of another filmmaker. Co-directors Charlie Kaufmann and Duke Johnson have adapted a Kaufman play into a stop-motion animated story built around a hotel fling between a customer-service expert/speaker and one of his admirers. But there's more to the story, and Kaufman and Johnson keep viewers on their toes throughout. If you're like me, you'll have lots of questions at the conclusion of Anomalisa, but you'll be grateful for this challenging, aurally fascinating experiment in storytelling.
4. Spotlight
Low-key brilliance from a superb cast allows this film, about the Boston Globe's breaking of the Catholic church child-molestation scandal, to quietly coalesce into an appropriately somber but somewhat unexpectedly gripping story. Perhaps the best thing about the film is how it doesn't celebrate the church's failings. Rather, it shows how destructive institutional sin can be. There are no winners in Spotlight—not in the traditional sense. But truth wins out, whatever the consequences for those who tried to suppress it.
3. Steve Jobs
A propulsive Aaron Sorkin script winnowing Walter Isaacson's book on the Apple founder to just three extended product introductions gives this Danny Boyle-directed biopic an energy and intensity the genre all too often lacks. Mighty performances from Michael Fassbender in the title role and Kate Winslet as his long-suffering marketing expert are up to Sorkin's high level, making this mystifying box-office misfire one of the year's exceptional films.
2. Mistress America
Earlier in 2015, writer/director Noah Baumbach's While We're Young opened in my market. It's a diverting film about the desire for something more in life, but despite one gloriously funny scene (think "Naomi Watts does Hip Hop"), it left me largely unmoved. So my expectations for Baumbach's second calendar-year release were low. To my delight, Mistress America has two of the year's best performances, starting with Tracy, played winningly by Lola Kirke, before shifting to Greta Gerwig's Brooke. It took a while to warm to Gerwig's flinty character and performance, but soon after I did, the film kicked into screwball-comedy overdrive and became laugh-out-loud funny.
1. Me and Earl and the Dying Girl
Halfway through the year, this film topped my "Best of 2015 So Far" list, but I hedged on its future placement on my year-end list. Surely some other films—Quality Films With Big-Name Stars and Pricey Oscar Campaigns—would push it down the list and make me regret placing it so high at the midyear point. But then, amidst a glut of award-season screeners and late-year releases, I watched this film again. And then again. And I loved it at least as much the second and third times as I had the first. This movie not only has humor, charm and fine performances, but it balances sweetness with sorrow in ways that snuck up on me. For all of those reasons—and because it carved out a unique place in my heart among the other excellent films on this list—Me and Earl and the Dying Girl gets my top slot.
Honorable Mentions: Inside Out, A Girl Walks Home Alone at Night, Ex Machina, Maps to the Stars, Jauja
Movie That Should Be on the Main List but I Just Didn't Feel Like Making a Space for It So Late in the Year: Star Wars: The Force Awakens
Movies I Liked That Everyone Else Hated: Pan, The Secret in Their Eyes
Movie I Disliked That Everyone Else Loved: 45 Years
Worst Movie of 2015: There are a variety of ways to define "worst," but I won't bore you with discussion of the various approaches to determining year's worst movie. Terminator Genisys was the worst film of 2015. Easily.
Best Documentary: Very Semi-Serious. The funniest movie I saw in 2015 was also from least likely genre—the documentary. Sure, Very Semi-Serious is about New Yorker cartoonists, but even as a fan of such humor, I didn't expect to laugh out loud as often as I did. Other outstanding documentaries of 2015: Amy, The Look of Silence, Listen to Me Marlon, Best of Enemies, Mavis!, Salt of the Earth, Be Known, Maidan, Hitchcock/Truffaut
Favorite Performances (In No Particular Order): Haluk Bilginer, Winter Sleep; Julianne Moore, Maps To The Stars; Maika Monroe, It Follows; Charles Grodin, While We're Young; Oscar Isaac, Ex Machina; Charlize Theron, Mad Max: Fury Road; Rinko Kikuchi, Kumiko The Treasure Hunter; Paul Dano/John Cusack/Elizabeth Banks, Love & Mercy; Lola Kirke, Mistress America; Michael Fassbender, Kate Winslet, Steve Jobs; Jennifer Jason Leigh, Anomalisa, The Hateful Eight; Bel Powley, The Diary of a Teenage Girl; Gunes Sensoy, Mustang; Mark Ruffalo, Spotlight; Ben Vereen, Time Out of Mind; Nina Hoss, Phoenix, Tom Hardy, Legend
Best Restoration: The Third Man