Reviews of Born to Be Blue, Directed by Robert Budreau, and Miles Ahead, Directed by Don Cheadle
In the late 1980s, I used my transition to college as an excuse to explore music beyond the heavy metal and hard rock of my teens.
Jazz reissues on CD were about to become a booming sector of the music market, and having played trumpet earlier in life, I wanted to explore the genre. When I mentioned my need of guidance to a music-store clerk, he directed me to a then-new Chet Baker double-CD, "The Last Great Concert."
"It's West Coast jazz," he told me.
Say what?
"It's smoother, goes down easy," he said—intending not to insult but to encourage. "You might like it."
I mark "The Last Great Concert" as the recording that "got me into jazz." Years later, the CD remains in my collection and elicits a warm response whenever I play it.
So it's the highest compliment I can pay Robert Budreau's Born to Be Blue to say that the film evokes the experience of falling in love with Baker's music. More than the film's departures from biopic tropes—it plays with time frame and has a meta quality to it that's lacking in most such films—Born to Be Blue captures the melancholy aspects of Baker's playing and singing alongside the self-destructive qualities that diminished his career.
In the 1950s, with bebop having taken hold of the jazz world, another school of jazz arose on the West Coast. This more laid-back sound was pioneered by Baker, among others, but his musicianship wasn't the only thing that drove his popularity. The photogenic trumpeter came to be known at least as much for his looks as he was for his music.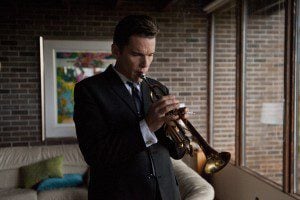 Baker's playing had a smooth sound, but his disruptive personal life was the musician's own doing. He struggled with drugs and women through much of his professional life, and, as Born to Be Blue makes clear, he had a desire bordering on desperation for the respect of other musicians, particularly Miles Davis.
Born to Be Blue opens in 1966, when a film producer gets Baker released from jail in order to film the story of his life. Employing a film-within-a-film structure early on, Born to Be Blue shows the trumpeter's longing for the approval of Dizzy Gillespie and Miles Davis, and Baker's even stronger desire for drugs.  "I hate needles," Baker avers, but the combination of heroin and women will prove irresistible to him the rest of his life.
Baker's weaknesses are no secret—to himself or to those close to him. He's charged with having abandoned his wife and kid to "become the world's biggest junkie," but he's unfazed by the accusation. "It's nobody's fault," Baker replies. "It makes me happy."
Baker's lack of concern about others catches up with him when a group of men beat him and knock out his teeth, forcing him to relearn how to play the trumpet and to re-establish respect among his fellow musicians. The halting, painful attempts toward restoration of Baker's reputation are put across beautifully by Ethan Hawke, who captures both the vulnerability and self-absorption of the vexing trumpeter. As Baker sings and plays his way back to respectability, it's less a triumphant comeback than a wistful reminder of Baker's talent, but also what might have been had he not had so little respect for his own gifts.
The respect Baker longed for from Davis was long in coming, and, as depicted in
Born to Be Blue
, not overly convincing. Baker leaned on drugs to overcome deep self-doubt about his ability to perform—a lack of self-confidence that Davis never shared. Yet Davis had his own personal struggles. Don Cheadle's
Miles Ahead
depicts a paranoia-filled stretch from the 1970s during which Davis closed himself off to his fans, his record label and to those closest to him.
Whereas Born to Be Blue opens during a time when, as one character in that film says, "jazz is dying," Miles Ahead is set after Davis had adjusted and adapted to the record-buying public's shift toward more rock-influenced sounds.
Structured around an attempted interview by a dogged Rolling Stone reporter (Ewan McGregor), Miles Ahead is Cheadle's fictionalized account of the musician's life based on events that actually occurred, if not exactly in the way the film depicts.
The central plot point is the theft by a producer (Michael Stuhlbarg) of a tape of Davis' music. As Davis and Braden try to recover the stolen property, the film recounts Davis' failed relationship and marriage to Frances Taylor (Emayatzy Corinealdi).
Like Davis during the period in which the film is set, Miles Ahead can be fascinating and frustrating—both conventional (car chases, shootouts and drug paranoia have been part of innumerable films, fictional or otherwise) and undisciplined. Certain editing choices are clunky, and at least one expressionistic sequence points to a fogginess in the script and direction rather than to anything related to Davis' state of mind.
Those are not insignificant drawbacks. Yet a film about an outsized figure like Davis stands or falls chiefly on the quality of its lead performance, and Cheadle has captured the anger and suspicion of the 1970s Davis. The film ends on the cusp of redemption for Davis, who would return to productivity in the 1980s. He died in 1991, just as I started exploring his catalog of recordings.
These days, I'm much more likely to put on Davis' music than I am Baker's, but were I to revisit only one of these two films, it wouldn't be much of a dilemma: While Cheadle's lead performance as Davis is strong, Hawke's performance as Baker is its equal, and Born to Be Blue is a better film.
That we have two worthy, if unequally effective, biopics of these jazz legends landing in theaters (and, in the case of Born to Be Blue, on video on demand as well) at the same time is a moment to treasure—and a moment on which to reflect. Just as in the late 1960s, "jazz is dying" again, or so they say. Films like these remind us, in their best moments, of the music's power to stir up feelings and emotions that other types of music don't—an experience as far removed from a "dead" art form as can be imagined. While vice is also part of Davis' and Baker's stories, there's plenty of craft and excellence on display in these films, along with the hopeful possibility that they will help raise up a new generation of appreciative fans.