Review of The Meddler, Directed by Lorene Scafaria
On one level, "The Meddler" is simply a warm-hearted indie comedy about a meddling widow. For writer and director Lorene Scafaria, however, it is the product of one of the most difficult experiences of her life. The film is a fictionalized autobiography based heavily on her own experience of losing her father and the family struggles that follow. But while "The Meddler" starts from a place of loss and alienation – the passing of a father and a husband – it refuses to fall into despair and dysfunction. Instead, tragedy sets the stage for a more optimistic view of family and what it means to "mourn with those who mourn."
Set in Los Angeles a year after the aforementioned death, the film stars Susan Sarandon as Marnie (based on Scafaria's mother) and Rose Byrne as her daughter Lori (based on Scafaria herself). The story begins with Marnie leaving Lori a long slew of voicemails and text messages checking in on her, updating her about her day, and generally chatting about nothing in particular. Even as a viewer, the sequence is as annoying as it is funny and endearing, and it's no surprise that it leads Lori, a lonely, stressed out screenwriter, to snap and rebuff her mother's attempts at kindness.
"I wanted to change what a meddler means for people," says Scafaria. "I wanted people to realize how much of it comes from loneliness, but also how much of it comes from having a lot of love to give and not knowing what to do with it."
Both Lori and Marnie are coming from a place of grief, and their characters are defined in no small part by how they respond to this grief. Scafaria readily admits that her mother seemed to handle her father's death much better than she did, in no small part due to her mother's faith.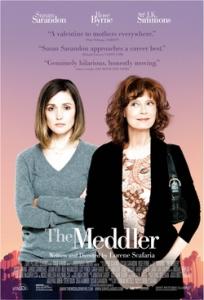 "Both of us were just grieving in very different ways," she says. "I thought the way my mother was doing it was very beautiful and optimistic…. Both of us believe in different things. I don't believe in as much as my mother does, and it's hard for me. I envy her faith, honestly, and her belief in heaven, because it completely informs how she views her life, and it informs how I view mine and how we view death."
Scafaria didn't want to make these religious elements too explicit in the story, but she says it certainly informs how Marnie and Lori engage with each other throughout the film. The result of this disparity in faith is an empathy gap, which shows up starkly.
"I like that (her faith) in there, because I think my mother feels like when she passes that his hand is going to reach out, and she's going to take my dad's hand and that will be it," says Scafaria. "I would never want to take that away from her. I don't wish my beliefs on anyone else, honestly. So I love that she believes that, but it was also what made it so hard sometimes to sit there and not communicate certain things."
For Scafaria, death was final – and hard. And it felt unfair. She says it took a year or so for the magic and sentimentality that we try to coat death with to fade out of the air, and once that happened she "was sort of in anger and depression forever." Her father really was gone, and everyone around her had to return to their lives and continue going about their business.
"It's really hard to empathize with anyone when you're in grief," she says. "I remember looking around and just being angry at people for being alive, and how hard it is to actually start to snap out of that at first, just to be like 'my god, my dad loved life so much, I can't believe the person who loved life so much is gone and all these miserable people are still around.'"
This anger and depression is painfully evident in Lori, but to dwell on her character would miss the point of the film. Scafaria isn't telling an autobiographical sob story about herself, but rather an upbeat caper, of sorts, starring her incredibly generous mother and all the love she has to give. The goal was to capture her mother's side of the story, an empathetic endeavor quite befitting of a story that makes empathy one of it's main themes. People both grieve and love quite differently, after all.
Left financially secure by her deceased husband, Marnie meddles in the lives of everyone from her daughter, to her daughter's friends, to employees at the local Apple store. In doing so she illustrates one of the grand challenges of living out the golden rule. She and her daughter love each other but drive each other up the wall when they try to show that love. How exactly do two people who love each other communicate that affection and actually help each other? As the film reminds us, the responsibility falls on both parties. One should be generous toward others as a giver while also trying to understand what their needs really are. And as a recipient one should also give others the benefit of the doubt when they try to show love.
"I wanted to tell a story about generosity and giving," says Scafaria. "It's an incredible way to cope – to realize there are a lot of other people out there who need you… that you can still help people at a certain point in life."
A lot of people retire when they're done with a career and raising children, but Marnie refuses to fall into complacency or self-pity, proving that even in their old age people can still have a lot to give. Sometimes when you try to help it works out, while other times the generation gap can blow up in your face, but that shouldn't discourage people from continuing to live a life of love and service to others.
This others-oriented mode of living, Scafaria says, is "a way to feel needed at any point in life, but it's also a way to put your own troubles in perspective."