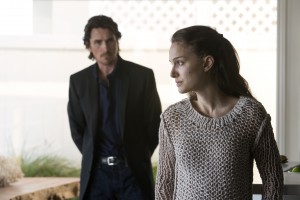 (Scroll past my Top 20 Films of 2016 for a list of 10 honorable mentions, 10 of the year's best documentaries, a list of standout performances, the most illuminating repertory screenings I saw in the Washington, D.C., area the past 12 months, the year's best cinematography and 2016's breakout performances.)
Manchester by the Sea
A tough sit, Kenneth Lonergan's story of coping with loss is filled with note-perfect performances that will break your heart. So why did it barely crack my list? It's been a strong year. It's also not a film that I—a father of four—am eager to revisit, no matter how well made it is, for reasons that should be obvious to anyone who's seen it.
La La Land
At the time I write this, Damien Chazelle's third feature is considered the frontrunner for the Best Picture Oscar, with its chief competitor coming in at #20 on this list. As delightful, playful and colorful as Manchester by the Sea is somber and sad, La La Land is bracketed by two of the year's best sequences. There's been nothing like it on the big screen for decades.
Loving
What could have come across as a righteous lecture on racist attitudes of the not distant past is instead often gentle and warm, thanks to wonderful lead performances from Ruth Negga and Joel Edgerton as the couple who defied, and helped to defeat, Virginia's anti-miscegenation laws. Released the same year as director Jeff Nichols' just-missed-this-list Midnight Special, Loving treats an explosive subject with a PG-13 level of restraint, as well as with a sense of grace and dignity. It's the closest thing I've seen to a family-friendly arthouse film in some time.
Right Now, Wrong Then
My third attempt at a film from director Hong Sang-soo proved to be the charm, comprising an enticing tale told twice of a filmmaker befriending an artist and paying a visit to her friends. Things play out differently in each version, but here the surprises—both negative and positive—are more unexpected than I recall from the earlier Hong films I've seen. This is the kind of revelatory work that will have me revisiting those earlier films—and reassessing what I may have missed the first time through.
Little Men
I'm a fan of writer/director Ira Sachs' Love Is Strange, but remain unsure of his directorial chops beyond his ability to pull great performances out of his actors. Perhaps that's more than enough, as the two leads here—young actors Michael Barbieri and Theo Taplitz—are the equal of veterans John Lithgow and Alfred Molina in Strange, while the human drama, including tension between the kids' parents, is at least as affecting as in the earlier film.
Silence
Martin Scorsese's adaptation of Shusako Endo's novel about Jesuit missionaries in Japan could have, in the hands of an inferior filmmaker, come across as repetitive and didactic. Instead, with help from the esteemed cinematographer Rodrigo Prieto, Scorsese has given us something approaching a spiritual masterwork. Only 24 hours removed from seeing the film and having to complete this list, I reserve the right to revisit this ranking once Silence has had some time to settle. Based on my initial impressions, I'm confident it will rise.
Kubo and the Two Strings
2016 had its share of strong animated fare, including Disney/Pixar's critically underrated Finding Dory and slightly overrated Zootopia, but nothing topped this Laika effort. As anyone from Generation X or older knows, the most memorable films seen during childhood are those unafraid to risk frightening, even traumatizing, members of their core audience. Strange, dark and, yes, even scary at times, Kubo has moments that may unsettle its most sensitive viewers, who will also be the most susceptible to the film's many joys.
Dheepan
The Palme d'Or winner at the 2015 Cannes Film Festival, Dheepan shows us something we haven't seen before—the struggles of Sri Lankan immigrants in Europe. While the perils of their community (low wages, the temptation to deal drugs) aren't unusual, the way the film plays out feels unexpected, blending genre elements as it evolves into a very different type of film by its end than it was at the beginning.
Jackie
A snapshot of grief, a moment where a legacy was defined. Jackie is most surprising in its willingness to penetrate Jackie Kennedy's composed outer shell and show how shattered she was following her husband's assassination. Her persistent queries to a priest add theological depth—albeit from a skeptical perspective—that's too often lacking in stories dealing with death and loss. Credit Jackie for asking the sort of spiritual questions people ask following the death of a loved one.
Sing Street
One of the year's most unjustly overlooked crowd-pleasers, this story of Irish brothers and the pursuit of one's passion includes the year's most exuberant soundtrack and some of 2016's most memorable sequences, including an ending that's equally uncertain and uplifting—a difficult feat to pull off.
Born to Be Blue
Another feather-in-the-cap late-career performance from Ethan Hawke as troubled trumpeter Chet Baker. In interviews, Hawke has drawn comparisons between the film's interpretive approach to its subject and author Geoff Dyer's magnificent collection of jazz-musician profiles, "But Beautiful." For Dyer's fans, that's a high compliment, one the film earns with its depiction of Baker's need for peer approval, affection for women and dependence on drugs.
Hell or High Water
I'm not one for on-the-nose this-is-how-we-live-now cinematic critiques of America, but this story of desperate economic straits was so flawlessly executed and expertly performed that I discount any borderline sermonizing in Taylor Sheridan's script. Jeff Bridges and Ben Foster are reliably colorful as men on opposite sides of the law, while Chris Pine shows a darker side than we've seen from him before. It suits him well.
Toni Erdmann
A father tries to reconnect with a distant adult daughter in unexpected, hilarious ways. The humor, never absent for long in this 162-minute movie, ranges from situational chuckles to unexpected belly laughs. Among a best-films list that's very light on comedies, this one (and my #2) shows how the genre continues to produce some of the best annual cinematic output.
American Honey
British director Andrea Arnold casts her eye on a segment of youthful America—kids just on this side of the law, attracted to a form of "freedom" that provides structure but little direction or future hope. Breakout star Sasha Lane joins a traveling troupe of teens selling magazine subscriptions under the tutelage of Shia Lebeouf and Riley Keough. Bible Belt religion withers under Arnold's gaze, as do fat-cat businessmen, but Honey has no long-term answers for its characters, whose futures aren't bright, no matter how much satisfaction they feel in the moment.
Things to Come
A philosophy teacher (Isabelle Huppert) sees her marriage come apart and her professional ambitions take a hit. This drama is thoroughly engaging and even enriching in ways that Huppert's other acclaimed 2016 film, the Paul Verhoeven-directed "Elle," never even aims for. If you're looking for something more contemplative than forceful or angry, writer/director Mia Hansen-Love's Huppert showcase is the one for you.
The Neon Demon
From its superb score to its arresting cinematography, director Nicolas Winding Refn's mesmerizing film turns a familiar story about the dangers of industries that exploit the naïve (modeling, in this case) into a can't-take-your-eyes-off-it cinematic feat. The film overreaches in its final stretch, but in ways that are admirably uncompromising (if little else).
Sunset Song
Sweeping in narrative scope and visual beauty, director Terrence Davies' adaptation of Lewis Grassic Gibbon's novel feels both old-fashioned in its values (community, God, love of country) and contemporary in its female fortitude. That so few saw this on a big screen is one of the year's biggest cinematic tragedies; to use the less-than-ideal home environment as reason to continue avoiding the film would only compound the problem.
Hacksaw Ridge
I have no idea whether Mel Gibson has put his well-publicized troubles behind him, but as one who never responded as fervently as conservative religious friends did to his earlier directorial efforts, I count Hacksaw Ridge as a breakthrough. A gentle, even tender first half (offset somewhat by the growing divide between Desmond Doss and his war-scarred father) gives way to a very violent second half, but those who can stick it out will be rewarded with astonishing acts of valor. After the bitter disappointment of Angelina Jolie's 2014 adaptation of Unbroken, which relegated Louis Zamperini's faith to a closing title card, I appreciated how Hacksaw Ridge doesn't shortchange its main character's Christian beliefs, which are essential to his extraordinary story.
Everybody Wants Some!!
Richard Linklater's "spiritual sequel" to Dazed and Confused is at least as good as that classic comedy. Set in the opening days of college rather than the high-school years of Dazed, Everybody Wants Some!! again assembles a breakout cast (of mostly bros) for a snapshot of youthful aspirations about to collide with hard athletic and academic realities. If there's a misstep, I can't recall it. In any other year, this would be an easy #1 on my list.
Knight of Cups
My stormy relationship with the late films of Terrence Malick—The Tree of Life tops my list of the greatest films of all time, but I couldn't get away fast enough from The New World and To the Wonder—is very much on again. Walking out of this masterful meditation on spiritual awakening and the stumbles along the path of sanctification, I listened as a friend told me he hated this film so much that it likely would make him think less of all of the other Malick films he'd seen. Knight of Cups had the opposite effect on me. I was so profoundly stirred by it that it could cause a subsequent upward revision of recent Malick films I thought didn't work. Cups' story of a Hollywood writer seeking meaning through relationships with beautiful women may not be your story in its particulars—it surely isn't mine—but that's not Malick's intent. He's well-versed in the Bible; he knows that each of us is dead in sin until something outside ourselves awakens us to a more fulfilling life rooted in spiritual freedom. (Ephesians 2:1-5) The film's final word, "Begin," is a call to action, a call to repentance, and the most beautiful, well-earned moment at the movies this year.
Just Missed the List
Midnight Special
The Lobster
Cemetery of Splendor
The Witch
Love and Friendship
Arrival
Kaili Blues
Moonlight
Elle
Aferim!
Best Documentary
I Am Not Your Negro
Tower
Miss Sharon Jones!
Eva Hesse
Cameraperson
De Palma
Lovers and the Despot
Doc & Darryl
OJ: Made in America
Weiner
Best Performances (in order of preference)
Kate Beckinsale, Love and Friendship
Agyness Deyn, Sunset Song
Sasha Lane, American Honey
Ethan Hawke, Born to Be Blue
Jesuthasan Antonythasan, Dheepan
Kalieaswari Srinivasan, Dheepan
Chris Pine, Hell or High Water
Ruth Negga, Loving
Don Cheadle, Miles Ahead
Ferdia Walsh-Peelo, Sing Street
Ewan McGregor, Last Days in the Desert
Jeff Bridges, Hell or High Water
Michael Barbieri, Little Men
Theo Taplitz, Little Men
Kristen Stewart, Certain Women
Sonia Braga, Aquarius
Amy Adams, Arrival
Andrew Garfield, Hacksaw Ridge
Joel Edgerton, Loving
Isabelle Huppert, Elle
Mattheu Almaric, My Golden Days
Mahershala Ali, Moonlight
Krisha Fairchild, Krisha
Natalie Portman, Jackie
Michele Williams, Manchester by the Sea
Casey Affleck, Manchester by the Sea
Isabelle Hupert, Things to Come
Best Washington, D.C., Repertory Screenings
The Long Goodbye (AFI Silver)
The Fury (AFI Silver)
Nazarin (AFI Silver)
Best Cinematography
The Light Between Oceans
Arrival
Hacksaw Ridge
My Golden Days
Moonlight
American Honey
Breakout Performance
Michael Barbieri, Little Men
Theo Taplitz, Little Men
Lily Gladstone, Certain Women
Sasha Lane, American Honey