In early 2016, I argued on Social Media and elsewhere that in Paul Ryan and Mitch McConnell we've got the best Congressional leadership we've had since I've been paying attention to politics. To say it another way, it's the best leadership we've had since Tip O'Neill. I argued that these are two principled men who care about fair play and the importance of Congress as an independent institution responsible for leading the nation.
Since Spring of 2016, like most other political scientists I've had to eat more of my words than I ever thought possible–which I suppose is a useful exercise in humility for me. Unfortunately, some of the words I've had to eat have been about Ryan and McConnell. With that said, I think many of their poor decisions over the past two years have been largely dictated by circumstance, necessity, and the chaos our beloved President has strewn in his wake. I guess what I'm saying is that I still want to like Ryan and McConnell, despite much of 2016 and all of 2017. In part, this is because they do still seem to care about things like procedure.
To that end, I cheerfully recommend Mitch McConnell's recent biography The Long Game: A Memoir. McConnell has certainly overcome his share of adversity in his life, including polio as a child, moving often during childhood, trying to break into politics as a Republican in a predominantly Democrat state.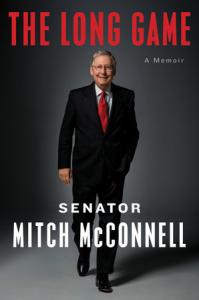 The personal narratives are interesting and well-written, and frankly are the primary reason to buy this book. The political stuff is good enough, but there's nothing in the political aspects of the book that's not already public record. We don't get much behind-the-scenes narrative, or any opinions that weren't already available in McConnell's speeches and other writings.
Still, McConnell's view of the Senate as an institution is still worth reading. For example, speaking of Harry Reid's time as Majority Leader of the Senate, McConnell writes:
"…Reid set records for the number of times he blocked Republicans from having any input on bills, or cut off our right to debate. The committee process had become a shadow of what it had been. Major legislation was now routinely drafted not in committee but in the majority leader's conference room and then dropped on the floor with little or no opportunity for members to participate in the amendment process, virtually guaranteeing a fight…
The key thing about the US Senate is that more than any other institution in any democracy, its rules are designed to safeguard the rights of the minority party. This has been a key to America's success because it's helped create laws that are durable, leading to stability over time. Changing a law requires at least some buy-in from the minority, which makes laws much harder to undo, and prevents us from having laws that change every few years" (238)
This is a tough pill to swallow coming from someone who got up to the tax bill hi-jinks a couple of weeks ago. Now, I don't think a stumble in the current political climate undoes a lifetime of dedicated public service. But it is still concerning, and hopefully he'll speak to the issue (if he hasn't already). The last few months aside, McConnell's view of the Senate and of the legislative process as a whole is a healthy one that I'd like to see more Republicans (and Democrats!) take up.
But McConnell doesn't just target the Left, those on the Right who would circumvent process come in his crosshairs as well. He writes about the Tea Party extremists:
"These shortsighted and self-interested operatives have exploited [our] natural frustrations [with the Obama years] by sowing confusion and discord among our ranks, splitting our party's natural coalitions, handing victory after victory to our political adversaries, and enriching themselves in the process. These people not only give a bad name to conservatism, they have had a poisonous impact on our politics. By setting up impossible goals and then decrying those who fail to achieve them, they create an endless cycle of distrust and finger-pointing that empowers no one but themselves and their ideological opponents. They have become a cancer within the Republican Party, and for too long no one was willing to call them out. When I decided to do so, I took a lot of heat. But it was absolutely the right thing to do.
The answer to Barack Obama and the march of the Left is not to rail against one's fellow conservatives, it's to make better arguments, build broad coalitions, win elections, and stick together. The changes we seek won't come quickly or all at once, but they will be more durable when they do arrive because they will have been achieved through persuasion and, ideally, on a bipartisan basis. As Henry Clay once put it: 'All legislation, all government, all society, is founded upon the principle of mutual concession, politeness, comity, courtesy; upon these everything is based… let him who elevates himself above humanity, above its weaknesses, its infirmities, its wants, its necessities, say, if he pleases, I will never compromise; but let no one who is not above the frailties of our common nature disdain compromises.' This is a program for success in a body of a hundred strong-willed men and women, each with his and her own interests and views. It requires deep understanding, and ability to listen, great patience, and a willingness to subordinate one's own idea of perfection for the moment in the interest of achieving long-term goals later on. It means viewing the legislative process as the best means we have for making good decisions collectively." (253-254)
As Christians, there's something we should appreciate here. Caution, patience, and following institutional procedures should be intentionally built into our own worldviews and mindsets. We should never support ends-justify-the-means thinking, or assume that just because the other side cheated first we are free to do so as well. Instead, we ought to patiently and quietly work within the rules to achieve our goals while keeping the, well, the long game in view. I sincerely hope that McConnell's actions of the past year or so have been an aberration, and that he's just biding his time until he can go back to the kind of quiet and unassuming governance that keeps a republic humming along healthily. In other words, I'd like to see a return of the McConnell of The Long Game and the exit of the McConnell of the 2017 GOP.
Dr. Coyle Neal is co-host of the City of Man Podcast and an Assistant Professor of Political Science at Southwest Baptist University in Bolivar, MO, where he not-always-patiently awaits the return of maturity and decency to American politics. It isn't likely to happen in his lifetime…