By Christian Hamaker
What is thy only comfort in life and death?
That I am not my own, but belong with body and soul, both in life and in death, to my faithful Savior Jesus Christ. 
The opening question of the Heidelberg Catechism can be heard early in First Reformed, as pastor Ernst Toller (Ethan Hawke) leads a group in reciting it.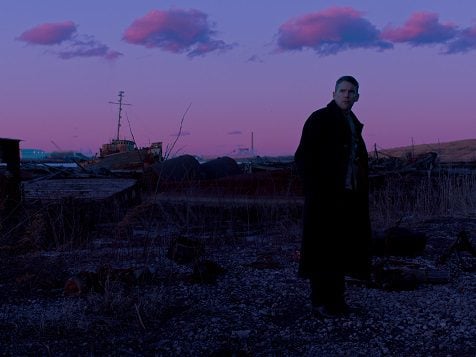 Toller shepherds the First Reformed Church, populated mainly by small groups of visitors throughout the week who are interested in the role the church once played in the abolitionist cause. When Toller preaches on Sundays, the crowds aren't much larger.
Among the regular attendees is Mary (Amanda Seyfried), pregnant but wedded to the troubled Michael (Phillip Ettinger), an environmental activist whose concern over the state of the world, and commitment to environmental causes, have led him to regret bringing a new life into the world.
Toller's attempts to steer Michael away from harm to himself and others are less than full-throated, compromised in part by Toller's physical and spiritual ailments. Not only do several shots of Toller's bodily woes (usually at a toilet—vomiting, blood in his urine) key us to his outward deterioration, but we hear Toller recite several journal entries chronicling his growing struggle to reconcile his religious beliefs with humanity's capacity for self-destruction.
Toller drinks whiskey—sometimes mixed with Pepto-Bismol—as he journals, and the pain the alcohol masks may be more than physical. We learn that Toller, a former military chaplain, encouraged his son to serve in Iraq. The boy was killed. Toller's marriage fell apart. He was rescued from complete dissolution by the reverend (Cedric Kyles) of Abundant Life, a vibrant congregation that supports First Reformed and its minister. But Abundant Life has another key backer—a local energy kingpin (Michael Gaston), whose company may be poisoning the planet. Toller's discovery of that connection pushes hm toward violence.
Writer/Director Paul Schrader, who has directed more than 10 films and wrote the screenplays for Martin Scorsese's Mean Streets, Raging Bull and, perhaps most infamously in Christian circles, The Last Temptation of Christ, has described First Reformed as a deliberate attempt to incorporate the tenets of filmmaking techniques laid out in Transcendental Style in Film, his book (written when Schrader, now in his 70s, was in his early 20s) examining how the work of filmmakers Carl Theodore Dreyer, Yasujiro Ozu and Robert Bresson "express the holy."
"The style is not intrinsically transcendental or religious, but it represents a way (a
tao
, in the broadest sense of the term) to approach the Transcendent," Schrader states early in his treatise.
Although Schrader's own work has not incorporated the elements he laid out in his book, a conversation with Ida director Pawel Pawlikowski inspired Schrader to tackle a film incorporating transcendental style elements.
All of that to say, while First Reformed focuses on a minister's crisis of faith and has a religious-sounding title, the film is not primarily about Reformed theology or confessional Christianity. It is, instead, chiefly a stylistic experiment—a way to express the existential despair and hopelessness that can lead to desperation and death (both spiritual and physical), but also to the possibility of divine intervention.
Schrader builds a fine drama out of these elements for much of the film's running time, but First Reformed doesn't pay off until a fascinating, utterly unique sequence late in the story. Breathtaking in its formal audacity, the sequence nevertheless fails to arrest Toller's downward trajectory, leading to a culminating act that leaves viewers, who earlier had identified with Toller, helpless at the character's dark decision-making.
The ending of the film will be much discussed—and highly divisive. Count me on the side of the ending's—and the film's—proponents, although more for the way First Reformed pulls off its strangely exhilarating tonal shifts than for any sympathy for Toller. Not only is he "always in the garden [of Gethsemane]," as a mentor describes the morose minister, but we also watch as he excuses his own sexual sin with a woman he ends up treating cruelly. Nevertheless, while you may find Toller and his actions disagreeable, you'll want him to conquer his demons.
"There are many ways to present the Holy in art," Schrader wrote in Transcendental Style. "No artist or style has cornered the transcendental market. … Spirituality in art must have room to move, to change with the times and the arts."
With First Reformed, Schrader has found his own entry point into the style he helped identify, and the result is his finest work in years. First Reformed isn't a film to warm a doctrine-lover's heart, but as cinema, it ends up soaring in the very moments when the film threatens to break down along with its protagonist.
Expect to be talking about Schrader's resolution of Toller's plight after you've seen First Reformed. You may be baffled by First Reformed, even angry during it—I felt both while watching the film—but the one thing you won't be is unmoved by it.