By Christian Hamaker
What can you say about an animated film described, in the film's press notes, as "joyously hallucinogenic but family friendly"?
That's not inaccurate. Director Masaaki Yuasa's Lu Over the Wall, the latest from distributor GKIDS (the group behind North American releases of numerous Hayao Miyazaki films as well as From Up on Poppy Hill, Only Yesterday and When Marnie Was There), looks like no other film I've seen from the distributor. Its delayed opening-credits sequence has a psychedelic flair, and title creature Lu is a mermaid who wears seaweed, has goldfish swimming in her head and whose father is a giant shark.
Lu emerges from the sea when she hears music—heavy guitar has particular appeal to Lu, but different musical styles and sounds get Lu dancing as well. Moved by the melodies, Lu finds her tail turned into two legs. Her dancing brings joy to Kai, a city boy who's recently moved to the fishing village of Hinashi Town, where he spends his spare time uploading songs he's written to the internet. When two classmates discover Kai's musical abilities, they recruit him as the keyboard player for their band.
Although the kids enjoy Lu's dancing, the villagers fear sea creatures like Lu, who they are said to have once worshipped. They've also long believed they'll be cursed if they harm the merfolk.  So when Kai's band is asked to perform during a local festival mourning those who have been lost at sea, the stage is set for a confrontation between the music-loving mermaid and the paranoid locals.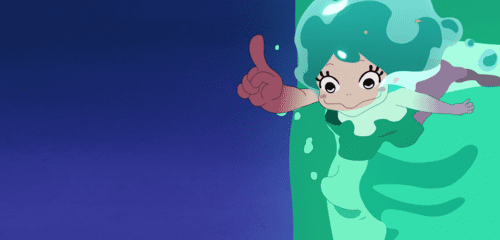 Beyond the fairy tale at the heart of Lu Over the Wall, the story offers an interesting angle on the tension between town traditions and revitalization. But the film's central characters—Lu and Kai—aren't well developed, despite extensive screen time given to them. Nor are their elders—a father, a grandfather or the other villagers—given more than one dimension (if that). The film's protagonist, Kai, is mostly just mopey when not playing the music that motivates him—moments that occur too infrequently for a film of this length.
At 112 minutes, Lu is both too long and too thin to be supported by occasionally trippy visuals. Its visual style is diverting, but its story doesn't have many surprises until an overextended finale provides some unexpected turns. But by then you may be thinking less about mermaids and more about whatever else is competing for your time and attention.